a
Naval Industry News - France
DCNS Launched its Sixth FREMM multi-mission frigate, the Future Auvergne for the French Navy
DCNS has floated the French Navy's FREMM multi-mission frigate Auvergne in Lorient. The achievement took place on 2 September and marks an important step in the construction of the most modern front-line ship of the 21st century. The FREMM Auvergne is the sixth frigate in the programme and fourth of the series ordered by OCCAr on behalf of the DGA (the French defence procurement agency) for the French Navy.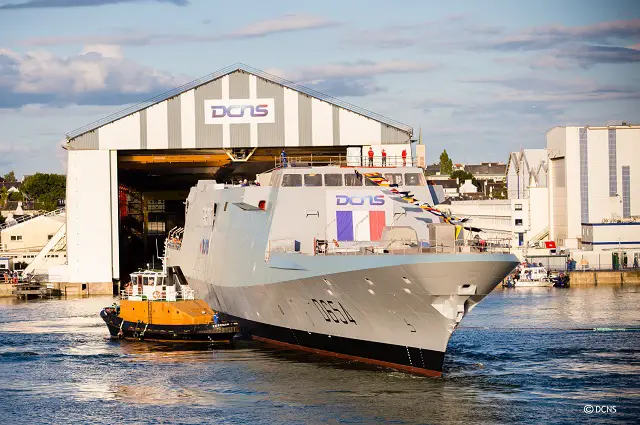 The future French Navy FREMM Auvergne (Aquitaine class) launched by DCNS in Lorient
With three FREMMs currently under construction in DCNS' Lorient site, DCNS is accelerating the production speed in order to deliver six FREMMs to the French Navy before mid-2019. Two additional frigates equipped with strengthened anti-aircraft capacities will be delivered before 2022. Two further units have also been sold to international clients; The Royal Moroccan Navy and the Egyptian Navy.

"The floating of the FREMM Auvergne, after the delivery of the FREMM Tahya Misr to the Egyptian Navy and the delivery of the FREMM Provence in June, demonstrate DCNS's ability to successfully achieve a serial production", explains Anne Bianchi, FREMM Programme Director at DCNS. "DCNS is doing everything in its power to satisfy its clients, the OCCAr, the DGA and the French Navy by delivering these last six frigates before mid-2019."

DCNS commenced construction of the FREMM Auvergne in August 2012. This new-generation frigate will be operated by an optimised crew of 108 (half that required for the frigates of the previous generation). Delivery of the FREMM Aquitaine, the first multi-mission frigate to be built for the French Navy, was taken by OCCAR on 23 November 2012 on behalf of the DGA.
DCNS Video
The floating of the FREMM Auvergne is being celebrated while the FREMM programme is progressing at an accelerated speed on the DCNS site in Lorient. Three FREMM frigates are currently under construction for the French Navy. The Lorient teams are also mobilised for the construction of the first GOWIND® corvette for the Egyptian Navy.

Link to FREMM Frigate (Aquitaine class) technical datasheet