a
Naval Defense Industry News - USA
US Navy approves full-rate production for Raytheon AIM-9X Block II IR Air-to-Air Missile
The U.S. Navy cleared Raytheon Company to begin full-rate production on the AIM-9X® Sidewinder Block II infrared air-to-air missile. The program completed operational test and evaluation earlier this year and Raytheon is now approved to produce missiles at full factory capacity.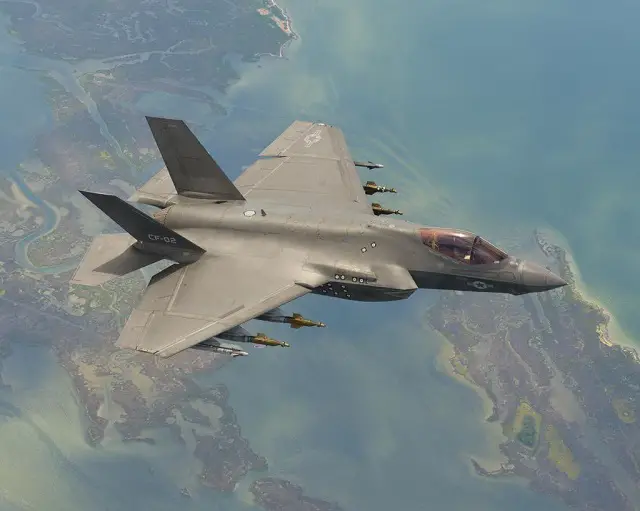 F-35C (CTOL variant) armed with external GBU-12 and AIM-9X during weapon testing near NAS Patuxent River. US Navy Picture
"We've proven the increased capabilities of the AIM-9X Block II, and are confident Raytheon can produce missiles at full rate," said U.S. Navy Program Manager Captain Jim Stoneman, PMA-259. "We look forward to getting them into the hands of our warfighters as quickly as possible."

The U.S. Navy and Air Force, along with several international partners who have purchased the AIM-9X Block II, are receiving Sidewinder deliveries.

"An updated electronics package gives the missile features significant enhancements, like the ability to lock on after launch using a new datalink that supports beyond-visual-range engagements," said Mike Jarrett, Raytheon Air Warfare Systems vice president. "Sidewinder remains the warfighter's weapon of choice for short-range air-to-air missiles."

About AIM-9X
AIM-9X is a U.S. Navy-led, joint Navy and Air Force program, with program offices in Patuxent River, Md., and Tucson, Ariz.
Raytheon has produced AIM-9X missiles for more than 14 years.
AIM-9X entered operational service in 2003; international deliveries began in 2005.
Block II development began in 2011 and completed operational test and evaluation in early 2015.
The U.S. Navy declared initial operational capability of Block II in March 2015.
Block II will be the baseline effector for the U.S. Army Indirect Fires Protection Capability Increment 2, Block 1 making AIM-9X a true dual use missile, effective in either air-to-air or surface-to-air applications with no modifications required to the missile.
AIM-9X currently has 18 international customers, nine original Block I customers followed by nine new and five repeat Block II customers.
AIM-9X reliability for the currently fielded system has reached three and one half times the required mean time between failures.