a
Naval Forces News - Germany
Germany Ministry of Defence Seeking Procurement of MQ-4C Triton UAS to Replace EuroHawk
According to German television news service
Tagesschau
/ German public-service television network ARD, the Federal Ministry of Defence (German: Bundesministerium der Verteidigung) is seeking the procurement of Northrop Grumman-built MQ-4C Triton unmanned aerial system (UAS) to replace the cancelled EuroHawk UAS program.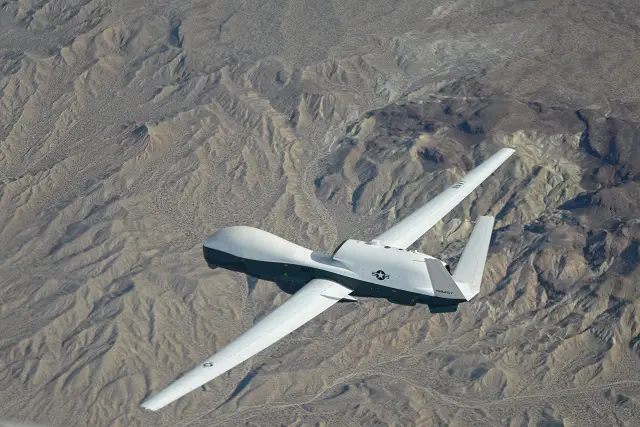 Link to MQ-4C Triton datasheet

Northrop Grumman / U.S. Navy MQ-4C Triton unmanned aircraft system Photo by Alan Radecki.
According to Tagesscau, the German Ministry of Defence is currently reviewing with the U.S. Navy to see wether the Triton could be cleared for export. The Ministry of Defence informed the German TV Channel that "results of the consultation are not available yet".

The German Air Force (Luftwaffe) ordered a variant of the RQ-4B, to be equipped with a customized sensor suite, designated EuroHawk. It was intended to fulfill Germany's requirement to replace their aging Dassault-Breguet Atlantique electronic surveillance aircraft of the Marineflieger (German Naval Air Arm). On 13 May 2013, German media reported that the EuroHawk would not be certifiable under ICAO rules without an anti-collision system; thus preventing any operations within European airspace or the airspace of any ICAO member. On 15 May 2013, the German government announced the immediate termination of the program, attributing the cancellation to the certification issue. Germany is now looking at options to fit the EuroHawk sensor payload on an alternative platform. Using the MQ-4C Triton appears as an obvious and easy solution as both EuroHawk and Triton are based on the RQ-4B Global Hawk.

When operational with the U.S. Navy, the MQ-4C Triton UAS will provide 24/7 ISR coverage virtually anywhere in the world. Its ability to dwell at high altitudes will improve intelligence collection and bring an unprecedented level of maritime domain awareness to the warfighter operating and sustaining up to five orbits across the globe. Australian Prime Minister Tony Abbott announced his government's intent to purchase the Triton UAS for high-altitude, long-endurance surveillance missions in March 2014.