a
Naval Forces News - Russia
Russian Navy Black Sea Fleet Naval Aviation Receives Two More Sukhoi Su-30SM Fighters
The naval aviation of Russia's Black Sea Fleet has received two more Su-30SM multirole fighters, advanced aircraft designed to replace Su-24 tactical bombers currently the fleet's mainstay. Russia's Black Sea Fleet had already received three Su-30SMs, the fleet's press office chief said.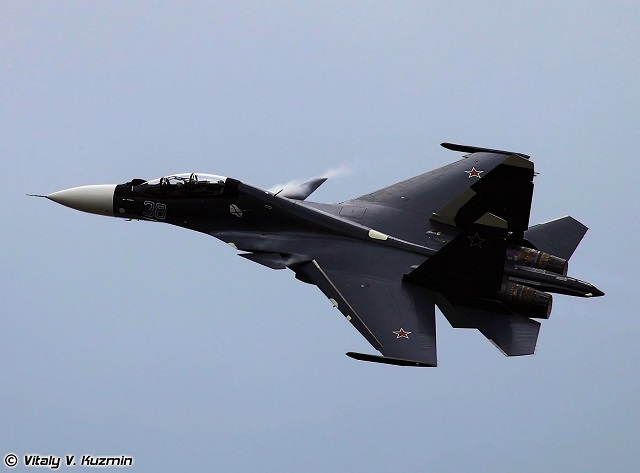 Su-30SM of the Russian Navy Black Sea Fleet in demonstration at MAKS 2015. Picture: V. Kuzmin

Several more planes will be delivered, enabling an air squadron to be activated in the near future, Vyacheslav Trukhachov, fleet press office chief, said on Friday.
"The separate naval attack air regiment of the Black Sea Fleet has received two more Su-30SM sophisticated multirole fighters," the spokesman said. "The aircraft have arrived at their home station in the Crimea and are being prepared for flights under the advanced hardware familiarisation program."
The chief of naval aviation of the Russian Navy, Major General Igor Kozhin
declared last month
that his units are set to receive more than 50 Su-30SM by the year 2020.
According to Irkut Corporation, Su-30SM are super maneuverable twin engine jets, equipped with phased array radar, thrust vectoring engines and canards. The fighter is able to use modern "air-to-air" and "air-to-surface" high-precision weapons.
The Russian Navy Su-30SM are not intended for the Russian aircraft carrier Admiral Kuznetsov but operate from naval aviation bases on land. They have a two-tone dark gray camouflage and bear a St. Andrew's flag (Russian Navy Ensign) painting by the cockpit.