a
Naval Industry News - USA
Lockheed Martin-Led Team Launches U.S. Navy's LCS 11 Future USS Sioux City

The Lockheed Martin-led industry team launched the nation's 11th Littoral Combat Ship (LCS) Sioux City (a
Freedom class Littoral combat ship
) into the Menominee River at the Fincantieri Marinette Marine (FMM) shipyard January 30th.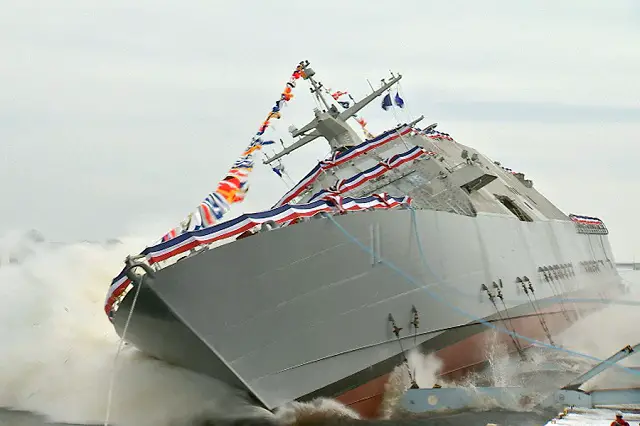 The Lockheed Martin-led industry team launched the nation's 11th Littoral Combat Ship (LCS), Sioux City, into the Menominee River at the Fincantieri Marinette Marine (FMM) shipyard.

The ship's sponsor, Mrs. Mary Winnefeld, christened Sioux City with the traditional smashing of a champagne bottle across the ship's bow just prior to the launch.
"It is an honor and a privilege to serve as the sponsor of the future USS Sioux City and to be a part of this major milestone along the way to her assuming her place as part of the great U.S. Navy fleet,"
said Mrs. Winnefeld.
"I also look forward to an ongoing relationship with her courageous crews and their families throughout the ship's lifetime."
Following christening and launch, Sioux City will continue to undergo outfitting and testing before delivery to the Navy in early 2017.
"The future USS Sioux City's interchangeable mission modules will empower her to face a variety of high-priority missions, from Anti-Surface Warfare to Anti-Submarine Warfare to Mine Countermeasures,"
said Joe North, Lockheed Martin vice president of Littoral Ships & Systems.
"She is ideally suited to navigate the reefs and shallows in the Asia-Pacific, as USS Fort Worth has demonstrated on her current 20-month deployment."
The Freedom-variant ships have demonstrated their value with successful deployments to Southeast Asia, including USS Fort Worth, which is providing the necessary capabilities for contingency operations in the region today. USS Freedom conducted a successful deployment to Southeast Asia in 2013 and is currently operating out of her homeport in San Diego.
"The Christening and Launch of the Sioux City (LCS 11) is a proud event for FMM,"
said Jan Allman, President and CEO of Fincantieri Marinette Marine.
"It showcases the craftsmanship and engineering capabilities of our workforce. We are confident that this ship will play a vital role in the Fleet, and carry the spirit of our industry team as she sails the globe."
The Lockheed Martin-led industry team is currently in serial production of the Freedom-variant, and has already delivered three ships to the U.S. Navy to date. The Sioux City is one of seven ships in various stages of construction at Fincantieri Marinette Marine, with two more in long-lead production.
Link to Freedom class Littoral Combat Ship technical datasheet
Littoral Combat Ship LCS 11 Sioux City Side Launch