a
Focus - Australia's Naval Forces Following Defence White Paper
Australia's Latest White Paper Prioritizes Naval Forces with Submarines Frigates Destroyers & MPAs
Australia unveiled its latest defense white paper, the third one in seven years. The Australian government has announced its plans to spend an additional 29.9 billion Australian Dollars on defence over the next decade. A majority of this investment will be for the Royal Australian Navy, in a move to answer China's military rapid expansion as well as rising tensions in South East Asia.

In summary, the naval part of the new white paper calls for:
» 12 new submarines to replace the existing 6 Collins class SSK (SEA1000 program)
» 9 new anti-submarine frigates to replace the ANZAC (SEA5000 program)
» 3 Hobart class air warfare destroyers (currently under construction)
» 12 new offshore patrol vessels
» Life extension for 4 Huon Class mine hunters and new hydrographic vessels
» 7 additional P-8A Maritime Patrol Aircraft for a total of 15 MPAs
» 7 high altitude MQ-4C Triton unmanned aircraft
» 24 MH-60R Seahawk naval combat helicopters (currently being delivered)

This is set to turn the Royal Australian Navy into a naval power to be reckoned with in the region.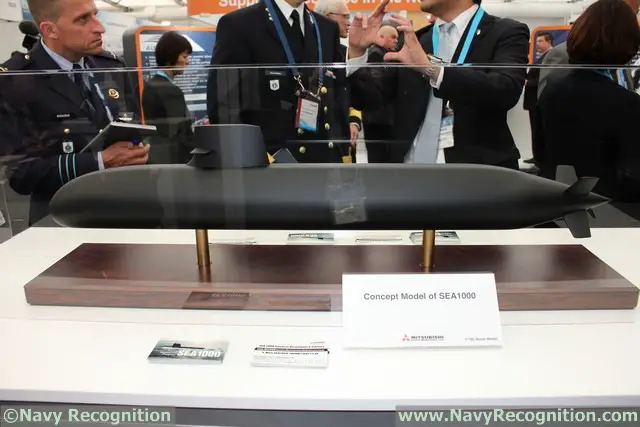 MHI's Concept Model of SEA1000 on display at PACIFIC 2015
Submarines
The Australian Governmentconfirms its need for 12 submarines as part of SEA1000 program for which
DCNS of France
,
TKMS of Germany
, and the
Government of Japan
are competing.
The new white paper mentions the following regarding submarines:
The Government has determined that regionally superior submarines with a high degree of interoperability with the United States are required to provide Australia with an effective deterrent, including by making a meaningful contribution to anti-submarine warfare operations in our region. The key capabilities of the future submarine will include: anti-submarine warfare; anti-surface warfare; intelligence, surveillance and reconnaissance; and support to special operations.
Video: Shortfin Barracuda Block 1A at PACIFIC 2015
The Government will increase the size of the submarine force from six to 12 boats. The doubling in size of the submarine fleet recognises that Australia will face a more challenging maritime environment in the decades ahead. By 2035, around half of the world's submarines will be operating in the Indo-Pacific region where Australia's interests are most engaged. Australia has one of the largest maritime domains in the world and we need the capacity to defend and further our interests from the Pacific to the Indian Oceans and from the areas to our north to the Southern Ocean. Submarines are a powerful instrument for deterring conflict and a potent weapon should conflict occur.

Australia's new submarines will be supported by upgrades to enablers and facilities such as wharves and port facilities, as well as simulators, training and submarine rescue systems. The key strategic requirements for the future submarines include a range and endurance similar to the Collins Class submarine, sensor performance and stealth characteristics which are superior to the Collins Class, and upgraded versions of the
AN/BYG-1 combat system and Mark 48 MOD 7 heavyweight torpedo jointly developed between the United States and Australia as the preferred combat system and main armament. The new submarines will have advanced communications systems to link with other Navy ships and aircraft to conduct anti-submarine warfare operations.
TKMS' "Endeavour" submarine project showcased at Pacific 2015
The acquisition of the 12 future submarines will commence in 2016 with the first submarines likely to begin entering service in the early 2030s. Construction of the 12 new submarines will extend into the late 2040s to 2050 timeframe. The length of the construction process will mean that Australia will need to be planning the follow-on submarine well before the last new submarine enters service. To ensure no capability gap and the ability to progress development of a replacement submarine in the 2050s, the Government has decided to implement a rolling acquisition program for Australia's submarine fleet. A rolling acquisition program will ensure that Australia is able to maintain a fleet of 12 regionally superior submarines as submarine and anti-submarine technologies develop over the coming decades.
The future submarine program is the largest defence procurement program in Australia's history. The Government has already committed to maximising Australian industry involvement in the submarine program, without compromising cost, capability, schedule or risk. The Government will announce the results of a Competitive Evaluation Process in 2016.

To learn more:
Japan's MHI Soryu Class SSK Technical datasheet
France's DCNS Barracuda Class SSN Technical datasheet
Germany's TKMS Type 216 SSK Technical datasheet
Navantia's SEA5000 proposal is based on the Hobart class Air Warfare Destroyer design
Surface vessels - Frigates:

9 new frigates will be procured as part of the SEA5000 program which calls for the replacement of the RAN ANZAC class frigates. The Future frigate-class is expected to have anti-submarine warfare (ASW) capabilities and the CEAFAR2 radar currently in development by CEA. Most leading shipyards are competiting for the SEA5000 program.

The defense white paper mentions the following regarding surface vessels:
Key elements of new naval capability will include 12 major surface vessels. The three Hobart Class Air Warfare Destroyers to enter into service in the early 2020s will provide Australian or coalition maritime task groups with defence against air and missile attack. The Hobart Class will be equipped with new advanced surface to air missiles to enter service by the middle of the next decade. Nine new future frigates optimised for anti-submarine warfare will be introduced into service from the late 2020s to replace the existing fleet of eight Anzac Class frigates, with construction to start in 2020.

Navantia of Spain SEA5000 proposal relies heavily on the Hobart class AWD design already selected by the RAN. A Navantia official explained there is "up to 70% commonality between the two platforms from a production stand point". The vessel would be fitted with 48x MK41 VLS cells, a SAAB combat management system and 2 helicopter hangars.

Navantia SEA5000 proposal basic specifications:
Original design: RAN Hobart class ASW
Length overall: 147.2 m
Max beam: 18.6 m
End of life displacement: 7400 t
Accommodation: 237
DCNS SEA5000 proposal is based on the successful FREMM design
DCNS representative explained to
Navy Recognition
that the vessel shares the same hull (same engines, same displacement) based on the proven FREMM design. DCNS used its research and development work already conducted on the FREMM ER (unveiled at Euronaval 2012) to fine tune the design of the mast area for this SEA5000 proposal. As can be seen on the CGIs, the FREMM for Australia is fitted with a 127mm main gun and a Rheinmetall Millenium CIWS gun on top of the helicopter hangar. DCNS stresses that this is "a first approach to SEA5000 with known or anticipated requirements" and that it will adapt the design and systems fit as customer requirements emmerge. The FREMM was designed from the start by DCNS as a potent ASW platform with very low accoustic signature even at speed.
DCNS SEA5000 proposal basic specifications:
Original design:
ASW FREMM (Aquitaine class)
Length: 142 m
Max beam: 20 m
Displacement: 6000 t
Accommodation: 145 to 180
Fincantieri SEA5000 proposal is based on the Italian Navy FREMM ASW design
During an industry meeting at PACIFIC 2015, Fincantieri unveiled the design of its proposal for the SEA5000 Future Frigate program. Based on the Italian Navy FREMM ASW (Virginio Fasan class), Fincantieri says it recently conducted feasibility studies to proof the possibility to use its FREMM platform to cope with different Navy requirements (including Canada and Australia). The Italian FREMM "can easily accommodate the CEAFAR2 [ed. note Fincantieri presentation mentionned the CEA PAR system]; weigh, CVG, electrical power consumption and fluidic requirements are aligned with the platform capabilities, without the necessity of major modifications". Finally, Fincantieri says it can easily install the SAAB CMS on board.

Fincantieri SEA5000 proposal basic specifications:
Original design: ASW FREMM (Virginio Fasan class)
Length: 144 m
Max beam: 19.4 m
Displacement: 6,700 t
Accommodation: 167 (up to 200 for RAN)
BAE Systems SEA5000 proposal is based on the future Royal Navy Type 26 design
The Type 26 is the future Anti-Submarine Warfare Frigate that will replace the Royal Navy's 13 Type 23 frigates and other ships. BAE Systems says the Type 26 / Global Combat Ship will be a highly capable and versatile multi-mission warship designed to support anti-submarine warfare, air defence and general purpose operations anywhere on the world's oceans. Navy Recognition could not meet a BAE representative who could talk about the SEA5000 GCS but we understand that it would be fitted with Mk41 cells exclusively (no CAMM which are present on the UK design) as well as a BAE Systems Mk 45 5 inch main gun.
BAE Systems SEA5000 proposal basic specifications:
Original design:
Global Combat Ship (Royal Navy Type 26)
Length: 148.5 m
Max beam: 20 m
Displacement: 6,000 t
Accommodation: 118 crew + 72 embarked forces
TKMS SEA5000 proposal is based on the future German Navy F-125 design. Image: TKMS
TKMS representatives explained to Navy Recognition at the show that their SEA5000 proposal shares the same hull and machinery as the F-125 Frigate which matches the basic requirements. With its CODLOG propulsion system, the vessel can reach up to 20 knots on electric propulsion (and keep a very low accoustic level). F-125 can accomodate up to 64x VLS cells. The proposal for the RAN has 32x cells forward and 16x more between the two masts. Based on CGI, the SEA5000 configuration includes an Oto Melara 127mm main gun, two Phalanx CIWS (forward and aft) and two hangars. At 7,200 tons the F-125 is large ship, which is TKMS says is necessary for the South Pacific Ocean.

TKMS SEA5000 proposal basic specifications:
Original design: F-125 (Baden-Württemberg class)
Length: 149.5 m
Max beam: 18.8 m
Displacement: 7,200 t
Accommodation: 110 (up to 190)
Mitsubishi Heavy Industries SEA5000 proposal is based on the 30DEX project
Japan Mod and MHI representatives told
Navy Recognition
at the PACIFIC 2015 show that the 30DEX (sometimes called 30DX or FFX) is a new concept that was shown in the mid-term defense buildup plan of Japan. The 30DX incorporates lessons learned on stealth and radar technology when MHI developped the ATD-X Shinshin stealth fighter experimental aircraft. Partners in the 30DX program include NEC, Fujitsu and Mitsubishi Electronics especially for the integrated mast and radars. The model on display at PACIFIC 2015 is an actual remote controlled model use to test the ballance of the hull in a test facility of the JMSDF. It features a Mk 45 main gun, 2x Marlin - WS by Oto Melera (forward) and a SeaRAM on top of the helicopter hangar. The hull is fitted with two shafts and two water jets to answer the high speed requirement of the JMSDF: 30DEX is required to reach 40 knots. For SEA5000 MHI is ready to integrate CEA's CEAFAR2 radar on 30DEX.
MHI SEA5000 proposal basic specifications:
Original design:
30DEX (MHI projet for JMSDF)
Length: 120 m
Max beam: 18 m
Displacement: About 3,000 t
Accommodation: About 100
HMAS Maryborough Armidale-class patrol boat at LIMA 2013
Surface vessels - OPVs:
The Government will acquire 12 new offshore patrol vessels that will provide greater reach and endurance than the existing Armidale Class patrol boat fleet. The new vessels will be capable of undertaking several different roles including enhanced border protection and patrol missions over greater distances than is currently possible with the existing patrol boat fleet, with construction to start in 2018. All 12 offshore patrol vessels will be delivered by 2030. The Armidale Class will be supplemented by additional patrol craft as required until they
are replaced by the offshore patrol vessels, to ensure there is no gap in Navy's border protection capability.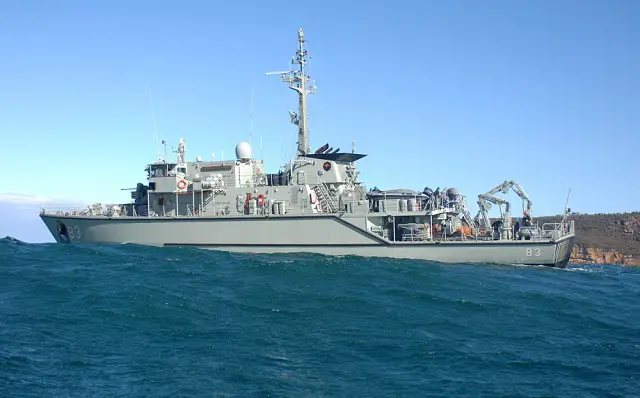 HMAS Hawkesbury, the second of six Huon class minehunters. Picture: Royal Australian Navy
Surface vessels - MCMV:
The mine countermeasures and military hydrography capability will be updated to support the future force. The life of four of the current Huon Class mine hunters will be extended while new technologies are developed to counter the threat of maritime mines. Defence will seek to replace the hydrographic capability with an efficient combination of military and commercial hydrographic and oceanographic survey capabilities.
Video: P-8A Poseidon at Dubai Airshow 2015
Maritime Aviation - MPA:
Eight P-8A Poseidon maritime surveillance and response aircraft will be introduced in the early 2020s, with seven additional aircraft to be acquired in two tranches to bring the total to 15 aircraft by the late 2020s. These aircraft have a range of over 7,500 kilometres, and can be refuelled in the air by Australia's KC-30A air-to-air refuelling aircraft, extending their range even further. In addition to being able to undertake sophisticated surveillance operations at great distances, the P-8A can undertake offensive operations against submarines and ships, as well as supporting search and rescue operations.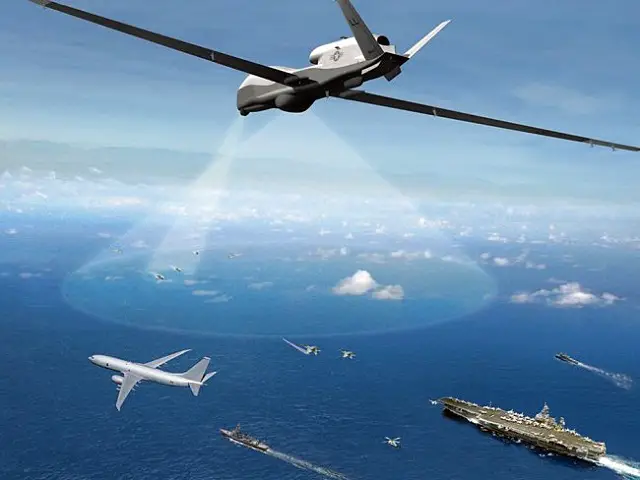 Artist Impression: MQ-4C Triton HALE UAV in action. Picture: US Navy
Maritime Aviation - UAV:
To complement the surveillance capabilities of the Poseidon, the Government will acquire seven high altitude MQ-4C Triton unmanned aircraft from the early 2020s as part of the Intelligence, Surveillance and Reconnaissance capability stream. The Triton is an unarmed, long-range, remotely piloted aircraft that will operate in our maritime environment, providing a persistent maritime patrol capability and undertaking other intelligence, surveillance and reconnaissance tasks. Short-range maritime tactical unmanned aircraft will be acquired to improve the situational awareness of our ships on operations.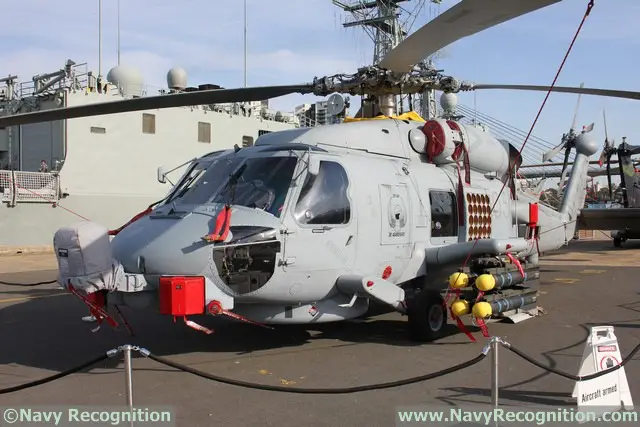 Royal Australian Navy MH-60R Helicopter at the PACIFIC 2015 static display
Maritime Aviation - naval combat helicopters:
Currently entering into service, 24 MH-60R Seahawk naval combat helicopters will enhance the anti-ship and anti-submarine warfare operations undertaken by our destroyers and frigates. Navy will also employ MRH-90 utility helicopters, and will work closely with Army for amphibious operations.