a
Naval Defense Industry News - USA
Liquid Robotics' Wave Gliders USVs Surpass One Million Nautical Miles at Sea
Liquid Robotics, the pioneer of wave and solar powered ocean robots, today announced that its fleets of Wave Gliders have reached 1 million nautical miles at sea—an important milestone for the unmanned surface vehicle (USV) industry. The Wave Glider is the first USV to complete missions from the Arctic to the Southern Ocean, operate through 17 hurricanes/typhoons, and achieve a Guinness World Record for the "longest journey by an autonomous, unmanned surface vehicle on the planet". One million nautical miles is the equivalent to 1.29x round trip journey to the moon (at the moon's furthest point) or approximately 46 times around the world.
Video showing how the how the SHARCs maneuver through the harsh ocean waters to provide a seafloor-to-space connection. Video: Boeing
"A million nautical miles at sea is an important threshold for Liquid Robotics, our customers, and the unmanned surface systems industry," said Gary Gysin, President and CEO of Liquid Robotics. "We're leveraging this expertise to help build an ocean sensor network with Wave Gliders serving as the communications hub and mobile sensor platform. Our vehicles are collecting and transmitting data today that is too costly or difficult to obtain, but is vital to our understanding and protection of the ocean."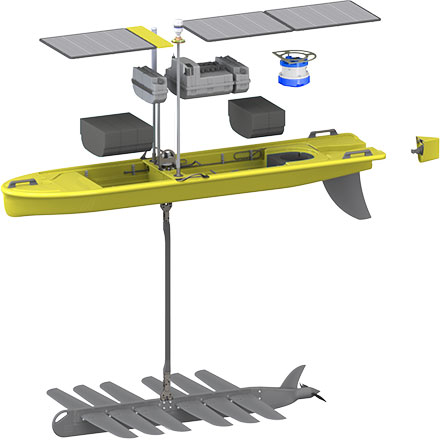 The Wave Glider is a unique wave and solar propelled 2 parts system (one on the surface, the other under water). Image: Liquid Robotics
Over the past decade, government and commercial organizations have turned to unmanned ocean robots to lower the cost, risks, and improve ocean access, allowing better measurement, monitoring, and understanding of maritime environments. In the Defense, Oil & Gas, and Scientific markets, Wave Gliders have been deployed to extend the range and effectiveness of traditional observation and surveillance systems. Missions have been conducted in all five major oceans collecting and communicating environmental, security, weather and seismic data.

"For the unmanned systems industry surpassing one million nautical miles is a landmark event," said Dr. James Bellingham, Director Center for Marine Robotics, Woods Hole Oceanographic Institution. "It clearly proves Wave Gliders (USVs) can sustain long duration operations required for scientific and defense missions. They're changing how we explore and protect the ocean."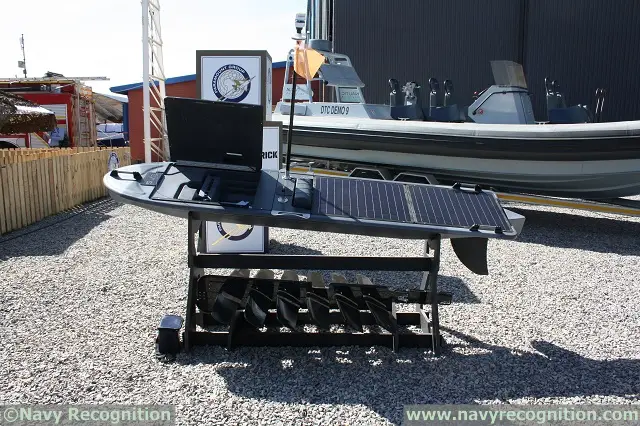 Liquid Robotics was showcasing the SHARCs (military version of the Wave Glider SV3 UUV) at AAD 2014 in South Africa.
Defense Applications

During AAD 2014 (defense show in South Africa which
Navy Recognition
was covering)
,
a Liquid Robotics representative told us that the Wave Glider SV3 is already in use with many navies around the world including the U.S. Navy (which has around 30 units), the Royal Australian Navy (which operates 6 of these unmanned vehicles), the Royal Norwegian Navy and even NATO.
The U.S. Navy deploys the Wave Glider SV3 for a number of missions including:
» Information Surveillance Reconnaissance (ISR)
» Underwater Terrain Mapping
» Anti-submarine Warfare (ASW - The system is then fitted with a towed array)
» Underwater relay
» Data link relay
You can read our
AAD 2014 article at this link.