a
Naval Forces News - Brazil, France
NDM Bahia LPD Entered Active Service with Brazilian Navy Following Maintenance by DCNS
The ceremony for the entry into active service of the NDM Bahia with the Brazilian Navy's (Marinha do Brasil) fleet took place on 10 March. It follows the end of the technical shutdown that started in Toulon at the end of December 2015. Previously known under the name Siroco in French Navy service, the Bahia is a Landing Platform Dock (NDM for Navio Doca Multipropósito in Brazilian) and belonged to the French Navy before being sold to Brazil in 2015.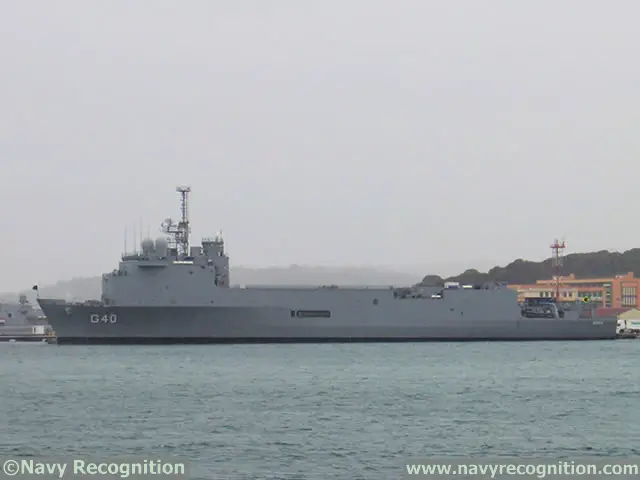 NDM Bahia in Toulon naval base, France, flying the Brazilian flag
As is the tradition, a bottle of champagne was broken on the vessel's hull and the vessel was named by the wife of Brazilian Navy's Chief of Staff. The ceremony provided an opportunity to bring together numerous personalities, amongst which in particular the Brazilian Navy's Chief of Staff, the Brazilian ambassador and the commanding Admiral of the naval action force.

The vessel's maintenance period, which represents the first time DCNS has ensured the maintenance of a Brazilian surface vessel, started at the end of last year. Around fifteen tasks – some of which major – were performed under the management of DCNS on different parts of the vessel, such as the propulsion engines, the diesel alternators, the air compressors and the firefighting circuit. Major anti-corrosion treatment was also successfully completed on the aviation hangar doors.
Video: NDM Bahia in Toulon naval base, France
This phase allowed an improvement to the vessel's operational capacity pending a second maintenance phase which will be performed subsequently in Brazil.

"This first maintenance task was of capital importance. Its successful completion allowed us to demonstrate DCNS's know-how and its total commitment to serving the needs of the Brazilian Navy" explains Franck Bouffety, director of the project. "The mobilisation of the entire team ensured that we were able to deliver on time. The sea trials went perfectly and the Brazilian Navy seems satisfied with the results obtained", he underlines. The vessel left Toulon in March to sail to Rio de Janeiro, its home port.