a
DIMDEX 2016 Online Show Daily - DIMDEX 2016 Opens
DIMDEX 2016 Doha International Maritime Defence Exhibition Officially Opens

DIMDEX 2016 opened with a €6.7 billion contract signing ceremony between Qatar and Rafale International (Dassault Aviation) for 24 Rafale fighter jets. Signing on behalf of Qatar was His Excellency Dr. Khalid Bin Mohamed Al-Attiyah Minister of State for Defence Affairs and behalf of France was French Minister of Defence Jean-Yves Le Drian.
Video: Day 1 at DIMDEX 2016
DIMDEX is the leading specialised naval defence and maritime security exhibition in the MENA region by attracting the biggest defence and security companies to Qatar to showcase the latest technologies in response to the maritime security challenges of the 21st Century. With interested visitors and maritime security professionals from around the world attending, DIMDEX is the mirror that reflects Qatar's position as a regional centre for modern businesses, industries and technologies.

The exhibition covers a wide range of maritime defence sectors including anti-piracy; diving and underwater operations and vehicles; maritime domain awareness and technology; and naval aviation. DIMDEX 2016 is recognised as the largest edition since launch in 2008 due to the increase in the number of exhibitors, VIP delegations, the participation of new countries, and the significant increase in exhibition space reaching 25,000 m2.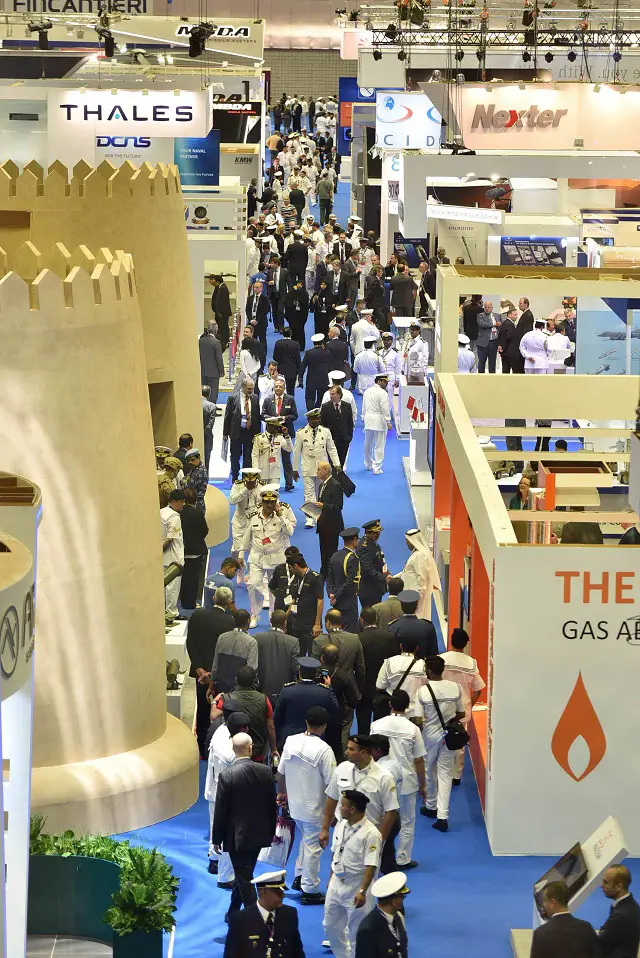 Among the organised activities for the first day was a visiting warships official opening ceremony at Doha Commercial Port, in addition to a gala dinner for senior industry professionals and VIPs to meet and network in an informal setting.

The Middle East Naval Commanders Conference (MENC) takes places today (Wednesday 30 March) at the QNCC theatre under auspices of His Excellency Dr. Khalid Bin Mohamed Al-Attiyah Minister of State for Defence Affairs, and features military and academic experts to discuss the most relevant issues currently facing maritime security in region under the theme: The Maritime Domain – The Centre of Gravity for the Regional Security Complex of the Arabian Gulf.

The three-day event continues until 31 March and is both organised and hosted by the Qatar Armed Forces and retains the same successful multi-dimensional format as with previous editions, being the exhibition, participation of official VIP delegations, visiting warships and the high-level MENC.