a
Naval Industry News - France, Australia
DCNS Welcomes the South Australian Premier to Cherbourg Submarine Shipyard
DCNS has welcomed Jay Weatherill, the Premier of South Australia, to the company's facilities in Cherbourg, France. Premier Jay Weatherill was provided with a tour of the shipyard, which included a visit to the hall where the Suffren, the first
submarine of the Barracuda programme
for the French Navy, is currently being constructed.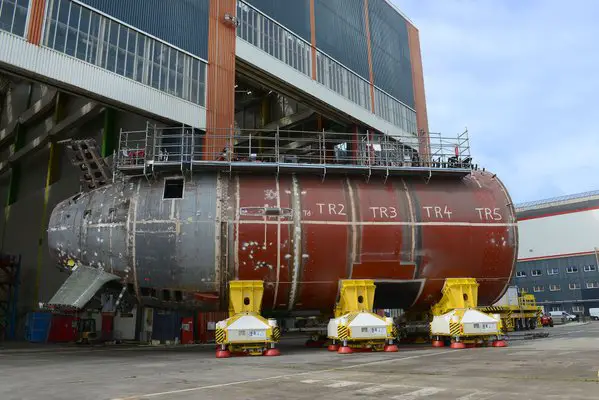 Aft section of a Barracuda SSN. Picture: DCNS
Cherbourg is the industrial base for DCNS and the heart of the company's submarine capability. 107 submarines have been constructed there since the late 19th century.

Currently, four Barracuda SSNs are under construction in the shipyard. The Suffren is due to be delivered to the French Navy at the end of 2017.

On 26th April, the Australian Government announced it had selected DCNS as its preferred international partner for the design of 12 future submarines for the Royal Australian Navy.

DCNS's solution for Australia is the Shortfin Barracuda, the world's most advanced conventionally powered submarine, developed with state-of-the art technology from its larger cousin, the Barracuda.

Subject to discussions on commercial matters, the design of Australia's Future Submarine with DCNS will begin this year.