a
Naval Defense Industry News - Kazakhstan
Kazakhstan has Launched the Border Patrol Ship "Sarbaz"
According to Kazakh TV channel 24KZ, JSC "Ural Plant Zenith" in Uralsk held the launching ceremony for a border patrol ship "Sarbaz" (project 22180) on April 29, 2016.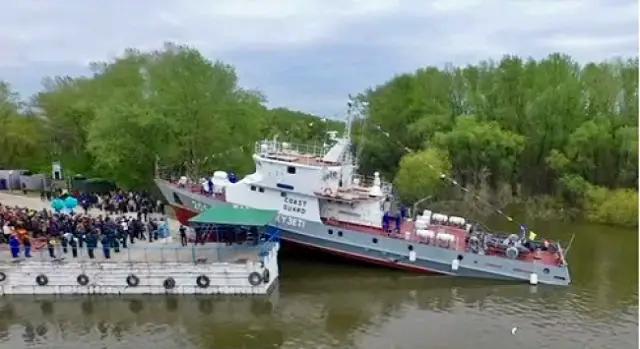 Border patrol ship "Sarbaz" during the launch
On the basis of this project it has developed a series of rocket and artillery boats Project 250 Bars MO. The ship was built by order of the National Security Committee of Kazakhstan for the protection of maritime borders in the Caspian Sea.

To date, the plant "Zenith" has built four boats of the same class ("Sardar", "Sakshi", "Jenis" and "Semser") for the Border Service of Kazakhstan.
Border patrol ship "Sarbaz" during the launch