a
Naval Forces News - Russia
Russian aircraft carrier Admiral Kuznetsov to go to sea in late June after repairs
Russia's Project 11435 aircraft carrier Admiral Kuznetsov will go to sea in late June after repairs, a source in the Russian defense and industrial sector told TASS on Thursday. "There are plans to fully repair all shipborne mechanisms and systems used for basing and operating the ship's aircraft and helicopters, as well as the electric power supply complex and life-support systems before June 20," the source said.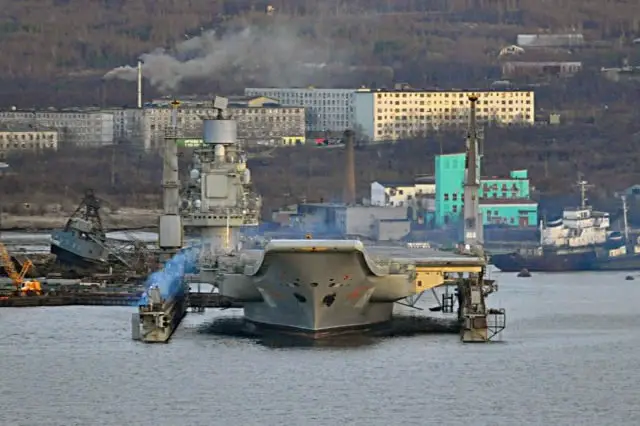 Russian Navy Aircraft Carrier "Admiral Kuznetsov" entered the dock 82 Shipyard in Severomorsk/Murmansk on Wednesday, May 13. Picture: Flotprom.ru

"The aircraft carrier Admiral Kuznetsov will go to the Barents Sea for trials within a week after June 20 to prove its technical readiness," the source added.

According to the source, the crew will check all shipborne systems so as the aircraft carrier Admiral Kuznetsov will be ready for aircraft and helicopter landing and takeoff.

TASS does not have any official information.

The aircraft carrier Admiral Kuznetsov is currently staying at the 35th Ship-Repairing Enterprise in Murmansk in northwest Russia. As Russian Defense Minister Sergei Shoigu said, the renewed air wing of the aircraft carrier Admiral Kuznetsov is expected to start undergoing trials after July 1. A military and diplomatic source told TASS in early April that the aircraft carrier Admiral Kuznetsov would head for the eastern part of the Mediterranean Sea in autumn and its air wing would include new Mikoyan MiG-29K/KUB (NATO reporting name: Fulcrum-D) multipurpose shipborne fighter jets that had not been deployed onboard the vessel on a permanent basis.

The aircraft carrier entered service in 1990. The ship has a full displacement of 58,000 tons, a length of 304.5 meters, a full capacity of 200,000 hp and a speed of about 30 knots. In addition to its air group of 24 or 26 fighter jets and 12 helicopters, the Admiral Kuznetsov is armed with anti-ship and air defense missile systems. The ship also has a ski-jump ramp and two aircraft elevators to support aircraft operations. The ship's crew totals 1,300 and its air wing has 660-strong personnel.

© Copyright 2015 TASS. All rights reserved. This material may not be published, broadcast, rewritten or redistributed.