a
Naval Forces News - Greece
Hellenic Navy Type 214 Submarines... Swift, Silent and Lethal
By Stelios Kanavakis - Senior Defence Analyst
After a series of problems regarding the management of the Skaramagkas Shipyards, the Hellenic Navy surfaced the HN Matrozos (S-122), a TKMS Type 214 submarine, at the island of Megisti (also known as Kastelorizo). The pictures were published during the submarine's operational sail at the Eastern Aegean and Mediterranean Sea.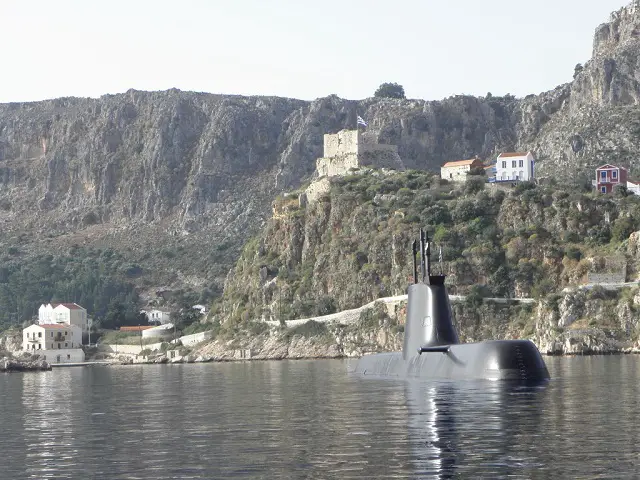 HN Matrozos (S-122) at the island of Megisti (Photo: Hellenic Navy)

The Navy inducted HN Matrozos to the fleet, swiftly and silently without holding a ceremony, at the end of March 2016. It was first launched in February 2015 and by the end of year all trials had been complete.

Its delivery is a major milestone for the Navy, especially when considering the country's economic condition. Due to problems at the shipyards, which resulted in many delays, the Navy took over the full production of the shipbuilding programmes, with its own staff and workers from the shipyard, marking a series of successes.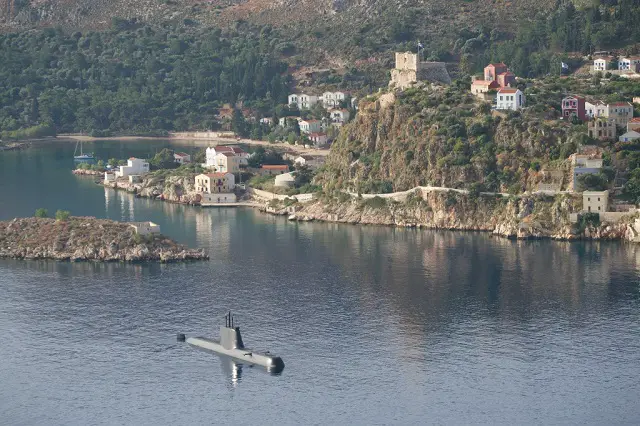 HN Matrozos (S-122) at the island of Megisti (Photo: Hellenic Navy)

The programmes include the construction of the Type 214 submarines and the remaining Super Vita FACs, and the recent upgrade of the Type 209/1400AIP (HN Okeanos) submarine and Elli-class frigates. Three of these frigates are modified in order to support the Sikorsky S-70 Aegean Hawk helicopters, in addition to the AgustaBell AB-212ASW they currently operate with.

At the beginning of 2017 the Hellenic Navy will have available and fully operational four Type 214, one Type 209/1400AIP, three Type 209/1200 and three Type 209/1100 submarines.

HN Matrozos is planned to take part at NATO's Active Endeavour mission in June. Due to the past weeks' tension with Turkey, after an increase in the violations of the Greek airspace and maritime borders from Turkish fighter aircraft and vessels, the Hellenic Armed Forces increased their presence in the area. Among them, HN Matrozos assumed patrols at the most eastern part of the Dodecanese islands, including Megisti.