a
Naval Forces News - Russia
First Project 20385 Corvette Gremyaschy has been fitted with Russian-made engines
The first Project 20385 corvette (
Steregushchy class)
Gremyaschy
has received indigenous turbine engines, according to a source in Russian defense industry.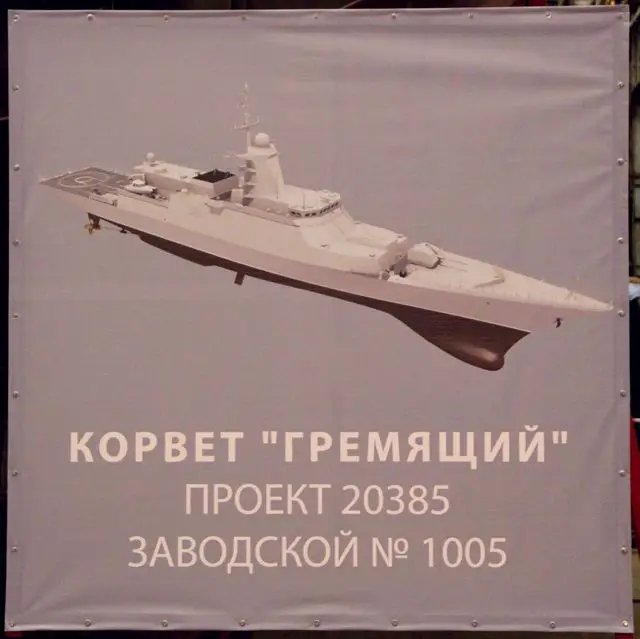 Gremyashchy class Corvette (Project 20385) artist impression for Russian Navy

"We were originally planning to power the ship by diesel turbines produced by German MTU company. Then, the sanctions imposed by Western countries forced us to replace foreign engines by Russian-made ones. Now Project 20385 lead corvette (named Gremyashchiy) has received two indigenous 1DDA-12000 engines produced by Kolomna Plant. Saint Petersburg-based Northern Shipyard (Severnaya Verf, a subsidiary of the United Shipbuilding Corporation) has already installed both turbines," the source said.

According to open sources, Project 20385 lead corvette is to be launched in 2017. The ship has a displacement of 2,200 t, a length of 104 m, a speed of 27 knots and a range of 3,500 nautical miles. Project 20385 is the upgraded variant of Project 20380/Project 20381 corvettes. All three projects are planned replace the ageing Project 1124/1124M (Grisha-class) ships. Project 1124/1124M corvettes are intended for anti-submarine warfare (ASW), while Project 20380/20381/20385 vessels are the multi-role ones.

Project 20385 corvettes are armed with eight-cell vertical launch system (VLS) suitable for Kalibr-NK (SS-N-27 Sizzler) land-attack/anti-ship cruise missiles. The ships have received 16-cell Redut launching unit for naval variant of 9M96 surface-to-air missile (SAM) used in S-350 and S-400 (SA-21 Growler) air defense systems (ADS). Project 20385 corvettes are also equipped with 100 mm A-190-01 naval gun, two 30 mm AK-630M close-in weapon systems (CIWS), Paket anti-submarine system and one Ka-27PL/PS (Helix-A) ASW or search-and-rescue (SAR) helicopter.

As of early 2016, Russian shipyards laid down two Project 20385 multirole corvettes named Gremyashchiy and Provorniy respectively.

© Copyright 2016 TASS. All rights reserved. This material may not be published, broadcast, rewritten or redistributed.