a
Naval Industry News - USA, Japan
GE to Provide IHI with LM2500 Gas Turbines for Japan's New 8,200-Ton 27DD Aegis Destroyer
GE's Marine Solutions announced it will provide IHI, Tokyo, Japan, with two LM2500 aeroderivative marine gas turbines for the Japan Maritime Self Defense Force's (JMSDF) new 8,200-ton class Aegis destroyer.
JMSDF guided-missile destroyer JDS Atago (DDG 177). Picture: US Navy
"GE's LM family of gas turbines are already part of numerous JMSDF ships, most recently the Izumo-class DDH helicopter carriers and 5,000-ton class destroyer programs,"
said Brien Bolsinger, Vice President, Marine Operations, GE, Evendale, Ohio.
"By using our marine gas turbines, the JMSDF benefits from long term support, operational efficiency and commonality within their fleet. As with previous contracts, IHI will handle in-country design, manufacture and testing of the LM2500 propulsion modules for the new 8,200-ton class Aegis destroyer program. We are delighted to continue our long-standing partnership with the JMSDF and IHI,"
Bolsinger added.
GE LM gas turbines are used by 34 navies worldwide to power more than 500 ships. The current global LM fleet totals more than 4,200 engines operating in diverse marine and industrial applications. Including the aforementioned new destroyer programs, the JMSDF uses LM2500 and LM500 gas turbines for its Kongou-, Murasame-, Atago-, Hyuga- and
Izumo-class
ships. To date, IHI has packaged, tested and delivered over 300 GE LM marine and industrial gas turbines, including 102 LM2500 engines and 79 LM6000 gas turbines.
The GE LM2500 gas turbines for the new Aegis destroyer will be equipped with integrated electronic controls, and will be arranged in a Combined Gas turbine-eLectric And Gas turbine (COGLAG) configuration. IHI will deliver the LM2500 propulsion modules to the shipyard, Japan Marine United Corporation, in 2018.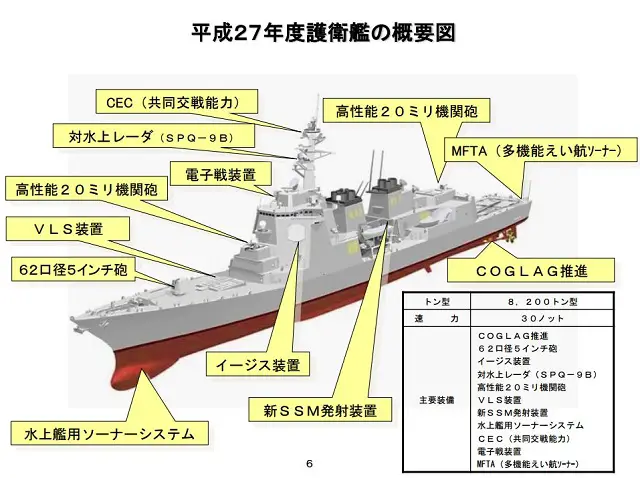 27DD AEGIS Guided Missile Destroyer technical specifications and layout
Atago class
In 2000, the Japan Defense Agency Maritime Staff Office included another two Aegis ships in its five-year budget on top of the four Kongo class destroyers originally ordered. The Atago class is fundamentally an improved and larger version of Kongo class destroyers. The vessels have all of the armament of the Kongo class but received a hangar space for to accomodate two SH-60 helicopters. Atago class destroyers displace 10,000 tons full load. JDS Atago (DD-177), was commissioned in 2007 and JDS Ashigara (DD-178) was commissioned in 2008.

27DD Guided Missile Destroyer
In 2015, Japan formally began the construction of two new Atago ships of the improved 27DD subclass. The hull is enlarged for an empty displacement of 8,200 tons to allow for growth space for advanced weapon systems. The COGLAG propulsion system received several improvements to the ships' space, power management and distribution. New weapons are to be incorporated such as anti-ship missiles, and in-development indigenous point-defense lasers and electromagnetic railgun systems. Other improvements include the AN/SPQ-9B surface search radar, a multi-static sonar system, and an enhanced Aegis combat system with better Cooperative Engagement Capability (CEC). The two 27DD vessels are expected to be commissioned in 2020 and 2021.
Follow this link to read our detailed article on 27DD