a
Naval Industry News - Germany, Canada
Magellan Aerospace to Collaborate with Atlas Elektronik for SeaSpider Anti-Torpedo System
Atlas Elektronik and Magellan Aerospace signed a Memorandum of Understanding on Thursday, May 26, 2016, sealing intent to collaborate on the development of the rocket motor and warhead sections of the SeaSpider Anti-Torpedo-Torpedo.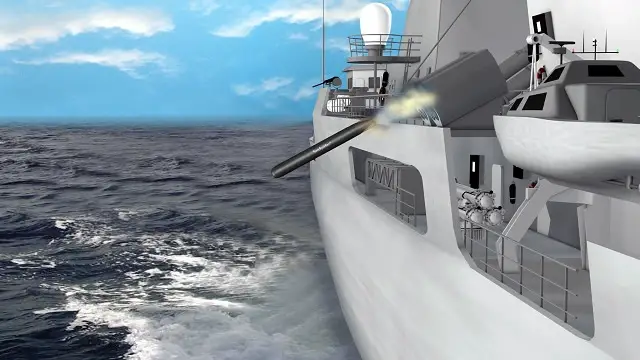 SeaSpider is designed to provide hard-kill defence capability against all torpedo threats for surface vessels and submarines. Picture: Atlas Elektronik

SeaSpider will combine the best technology and decades of experiences of two worlds – the expertise of Atlas Elektronik in naval systems like the SeaHake mod4 heavyweight torpedo and the leading rocket technology of Magellan Aerospace as chosen by NASA. This pairing will leverage Canadian and German innovation and technology to develop effective "hard-kill" torpedo defence with the world's leading Anti-Torpedo-Torpedo.

Magellan Aerospace and Atlas Elektronik Canada will enter the global market of naval defence with a revolutionary underwater rocket motor for SeaSpider that will define the world standard and support diversity in a key Canadian aerospace capability. This industrial effort seeks to secure and create long-term Canadian employment in the naval defence space.

Atlas Elektronik Canada, located in Victoria, BC, will build up capability in project management, research and development and work with Magellan Aerospace out of their facilities in Winnipeg and Rockwood, MB. Atlas Elektronik Naval Weapons Division in Wedel, Germany will provide ongoing support.

With the SeaSpider system at technology readiness level 6 the system concept as well as the novel underwater rocket propulsion is proven in multiple firings at sea and the transition to production maturity through development and qualification can now be achieved in collaboration across the Atlantic. The common goal is the concurrent certification for NATO and Allied forces deployment and the establishment of a new standard in torpedo defence.

SeaSpider is designed to provide hard-kill defence capability against all torpedo threats for surface vessels and submarines. As the key enabler for torpedo defence, SeaSpider will be integrated with sonar and acoustic sensors to counter these underwater warfare threats.

Rick Gerbrecht, President and CEO of Atlas Elektronik Canada Ltd states "We are pleased to be working with Magellan Aerospace, a proven supplier of solid rocket propellant systems to NASA where quality and dependability to operate in harsh conditions is mandatory. The SeaSpider represents an unprecedented resurgence in the excellence in Canadian Anti-Submarine Warfare capability. We are proud to be part of this effort that will offer the RCN, in time for the construction of the Canadian Surface Combatant, the leading integrated UWW solution to protect ships and sailors".

"Magellan welcomes the opportunity to collaborate with Atlas Elektronik, a recognized world-leader in naval systems", said Phil Underwood, President and CEO of Magellan Aerospace. "Magellan has a proven record of launching globally successful propulsion products, and looks forward to participating in this new endeavour with Atlas", he concluded.