a
Naval Forces News - France
nEUROn goes naval – UCAV demonstrator flight tested alongside French Navy Aircraft Carrier
The nEUROn unmanned combat aerial vehicle (UCAV) demonstrator made several low altitude vertical passes above French Navy (Marine Nationale) aircraft carrier Charles de Gaulle. These tests which took place July 6, 2016 were conducted by the French Procurement Agency (DGA) in conjunction with the French Navy and Dassault Aviation. They are part of a test campaign which objective is to study the use of a UCAV in a naval environment involving several vessels of the French Navy.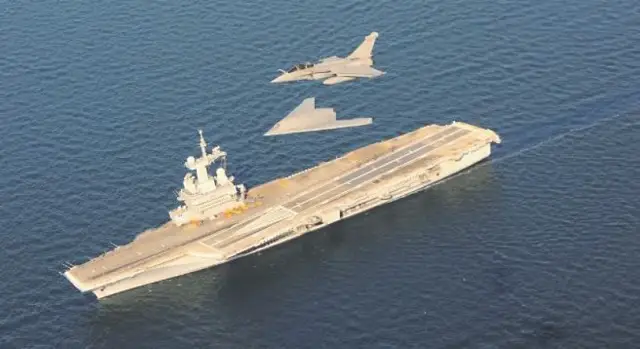 The Dassault nEUROn tested with aircraft carrier Charles de Gaulle
Picture: French Navy
The test campaign includes interactions at sea with the aircraft carrier Charles de Gaulle to assess the nEUROn's stealthiness relative to the naval platforms sensors. The DGA provides the project management while Dassault Aviation acts as prime contractor.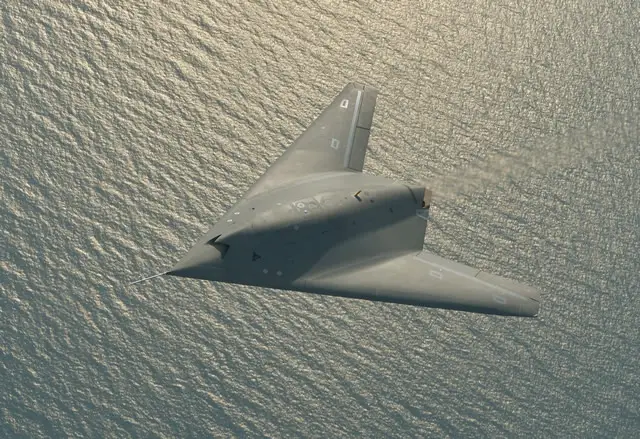 The Dassault nEUROn is an experimental unmanned combat aerial vehicle (UCAV) being developed with international cooperation, led by the French company Dassault Aviation.
Picture: Dassault Aviation
The nEUROn development is a joint programme involving France (Dassault), Italy (Alenia) Greece (HAI), Sweden (Saab), Spain (former EADS-CASA) and Switzerland (RUAG). It was launched in 2003 and started its materialization in 2005, after the members of consortium signed the funding agreement.

The first flight took place on 1 December 2012, at Istres Air Base in France. Low observability and electro-optical performance tests had been completed by mid-2015. The next step will be to undertake a series of low observability and weapon delivery trials in Sweden.

This project heralds the next generation of combat aircraft, manned or unmanned, with the ambition to preserve European autonomy in this area. In this construction of the future, the French Navy wanted a study on the ability of combat drones to evolve in the sea and air domains and subsequently study their implementation from surface vessels.