a
Naval Forces News - Russia
Russian Navy Naval Aviation Continues to Receive New Su-30SM Multirole Fighters
The Naval Aviation of Russian Navy is continuing to receive Sukhoi Su-30SM (NATO reporting name: Flanker-H) multirole fighter jets, according to the Ministry of Defense`s (MoD) press department.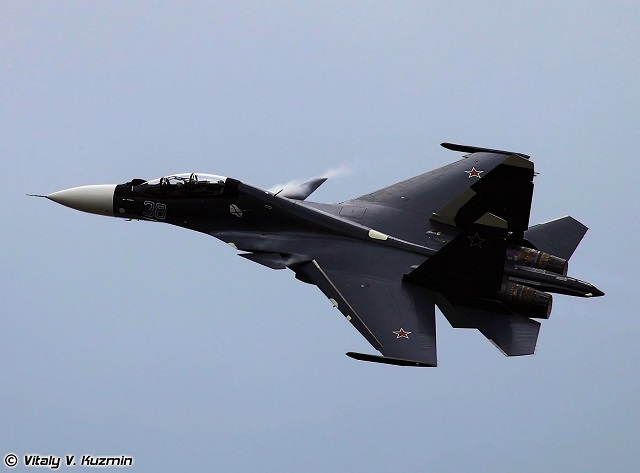 Su-30SM of the Russian Navy Black Sea Fleet in demonstration at MAKS 2015. Picture: V. Kuzmin

"The Naval Aviation`s pilots complete missions, improve their skills in the operational zones of the Pacific, North, Baltic, and Black Sea fleets, and intensively master new types of weapons and military hardware. The arm is supposed to be 25%-rearmed with Su-30SM multirole fighter jets by the year-end," a MoD`s official spokeperson said.

Earlier, the Naval Aviation was reported to get over 50 Su-30SM multirole fighters by 2020.

The aircraft will significantly shore up the combat capabilities of the Naval Aviation`s units. Such Su-30SM`s distinctive characteristics as long flight range (1,500 km), aerial refueling, and ability to fire air-to-air and air-to-surface guided missiles are in high demand by the arm.

Russia will replace all of its Su-24 Fencer bomber jets operating in the Black Sea Fleet on the Crimean Peninsula with Su-30SM Flanker multirole fighters by 2020, the head of the Russian Black Sea Fleet's Naval Aviation said previously.

According to Irkut Corporation, Su-30SM are super maneuverable twin engine jets, equipped with phased array radar, thrust vectoring engines and canards. The fighter is able to use modern "air-to-air" and "air-to-surface" high-precision weapons.

The Russian Navy Su-30SM are not intended for the Russian aircraft carrier Admiral Kuznetsov but operate from naval aviation bases on land. They have a two-tone dark gray camouflage and bear a St. Andrew's flag (Russian Navy Ensign) painting by the cockpit.