a
Naval Forces News - Russia
Russian cruiser Admiral Nakhimov to receive advanced information management system

Russia's Project 11442M cruiser Admiral Nakhimov that is currently being upgraded will receive an advanced information management system, spokesman for Russia's United Instrument-Manufacturing Corporation Leonid Khozin said.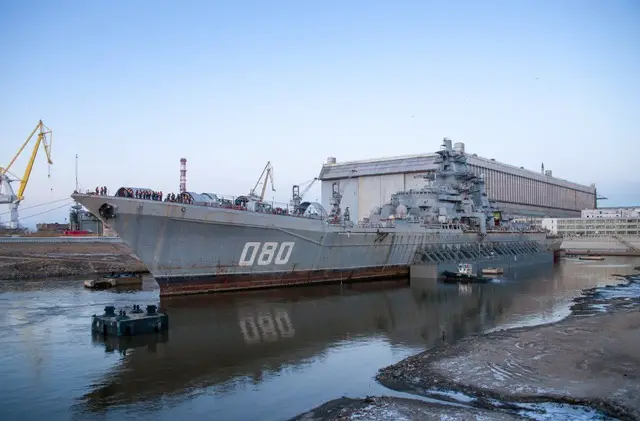 The Admiral Nakhimov nuclear-powered missile cruiser (project 1144.2) in the dry dock at Sevmash shipyard in Severodvinsk in November 2014. Picture: Sevmash
"The United Instrument-Manufacturing Corporation is developing a new information management system for the Project 1144 Orlan [NATO reporting name: Kirov class] heavy nuclear-powered missile cruiser Admiral Nakhimov as part of the program on its upgrade and repair," Khozin said.

The advanced system will make the work of the ship's crew members more comfortable, increase the decision-making and information transmission speed and speed up ship command and control, the spokesman said.

"We are planning to extend its capabilities considerably. A serious management network is being set up to include intercommunications, data warehouses, a video streaming network and a top-level decision support intelligence system," he added.

File picture: Aerial starboard quarter view of the Russian Northern Fleet Kirov class nuclear-powered guided missile cruiser Admiral Nakhimov (CGN-080) underway.
The Kirov-class cruiser Admiral Nakhimov, known as the Kalinin until 1992, was commissioned in 1989 and mothballed in 1999. It has since been docked for upgrades at the Sevmash shipyard in the northern Russian city of Severodvinsk, on the White Sea.

Sevmash deputy head Sergei Marichev said in a statement in June 2013 that the Admiral Nakhimov would become the most advanced heavy nuclear-powered missile cruiser in the Russian Navy. A press release at the time mentionned that the vessel should rejoin the fleet in 2018.

Originally four Kirov-class cruisers were built for the Soviet Navy. As of today only one vessel, the Pyotr Velikiy, is still operational. Russia initially planned to return two other Kirov-class vessels to service (in addition to Admiral Nakhilov) after several years of disuse. However, it was later indicated that the condition of the reactor cores of both ships was such that it would prove difficult, expensive and potentially dangerous to remove the spent nuclear fuel and repair the cores.

© Copyright 2016 TASS. All rights reserved. This material may not be published, broadcast, rewritten or redistributed.