a
Naval Forces News - North Korea
North Korea Again Test-Fired a KN-11 SLBM From its Sinpo-Class Ballistic Missile Submarine
North Korea fired a submarine-launched ballistic missile (SLBM) off its east coast on Wednesday, off its east coast following the start of an annual South Korea-U.S. military exercise. This launch follows one that took place on July 9th this year. The missile was launched from waters near the port city of Sinpo at around 5:30 a.m., according to Yonhap news agency citing South Korea's Joint Chiefs of Staff (JCS).
North Korea officially announced (and released pictures showing) the first SLBM test (Submarine Launched Ballistic Missile) from its new Sinpo class SSB (Ballistic Missile Submarine)
back in May 2015
.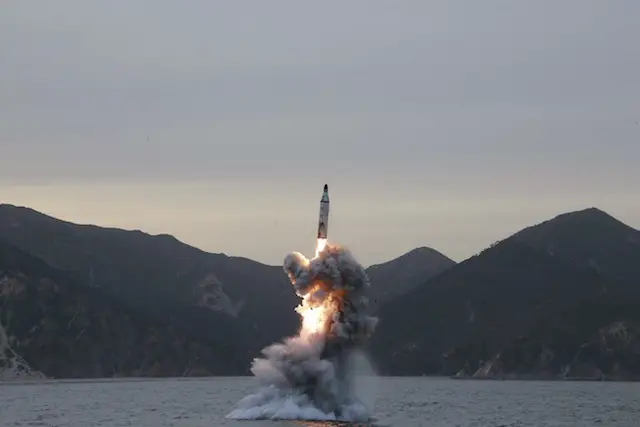 File picture: This photo, released by North Korea, shows the country's submarine-launched ballistic missile fired on April 23.
The military said the missile flew about 500 kilometers, which is an improvement compared with past launches. North Korea's missile fell into waters under Japan's air defense identification zone, it added.

Seoul and Washington on Monday kicked off an annual two-week joint military drill involving about 75,000 troops. North Korea has long denounced the joint drill as a rehearsal for a northward invasion, a charge denied by Seoul and Washington.

"North Korea's launch of the SLBM seemed to be aimed at raising military tension in response to the Seoul-Washington military drill," the JCS said, adding that the North's provocation is a clear violation of relevant U.N. Security Council resolutions.
File picture: North Korea leader Kim Jong-Un personally overseeing the May 2015 launch
KN-11 SLBM

The KN-11 is a new North Korean submarine-launched ballistic missile (SLBM) that is under development. On 23 January 2015 The Washington Free Beacon, quoting U.S. military officials, reported that the flight test of the KN-11 missile occurred off North Korea's coast. South Korean government officials declared later that the initial report was incorrect, saying "The reports on a flight test of the SLBM were different from the truth. It was a test of a vertical launcher, not a flight test".

No technical detail on KN-11 SLBN exist at this time. But because of the reduced size of its launch platform (the Sinpo class submarine), the KN-11 is expected to have a fairly short range compared to other, land based ballistic missiles available in the North Korean arsenal.
File picture: The first ever picture of the new Sinpo-class submarine
Sinpo-class Submarine

The Sinpo class submarine is a new ballistic missile submarine, the largest submarine ever designed and built in North Korea. Nammed after the town where it was built, the Sinpo classcould be based on soviet era Yugoslavian designs such as Heroj and Sava. The new submarine first appeared on Google Earth imagery in April 2014. Based on the satellite imagery, it is estimated that the Sinpo-class is 65m (213 ft) long with a beam of 6.5m (21 ft). Only two vertical tubes for one KN-11 SLBM each are located in the sail of the submarine.
Artist Impression showing the location of the vertical launch tubes on the new Sinpo-class submarine. Image from "Covert Shores" website. They have a very comprehensive analysis of the Sinpo class submarine. Check it ou at www.hisutton.com