a
Naval Industry News - Russia, Kazaksthan
Russian-built Project 10750E MCM Vessel for Kazakhstan Started Sea Trials
The Sredne-Nevsky Shipyard (Russian acronym: SNSZ, a subsidiary of the United Shipbuilding Corporation, OSK) has commenced the trials of the first Project 10750E (E stands for export-oriented, Eksportny) mine countermeasures (MCM) vessel intended for Kazakhstan, according to the company`s press department.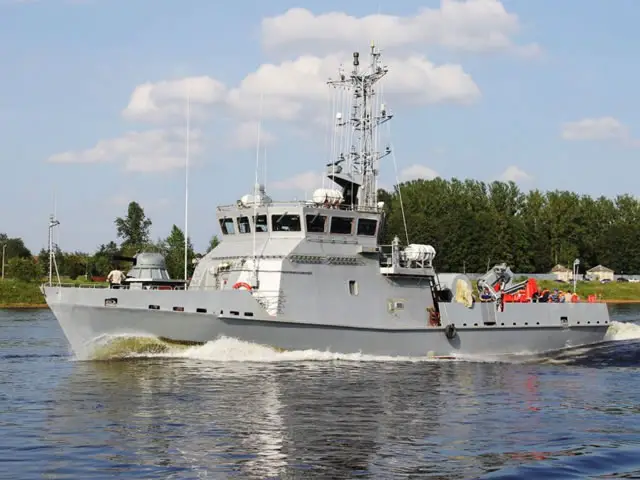 Project 10750E MCM vessel (NATO reporting name: Lida-class). Picture: Sredne-Nevskiy Shipyard

"The Sredne-Nevsky Shipyard will test the MCM vessel`s dynamic and combat performance, as well as the reliability and economy-in-use of its powerplant," a spokesperson for the company said. He added that SNSZ would check the integrated navigational system, the advanced mine-searching hydroacoustic station, the pieces of artillery and minesweeping equipment, the remote-controlled unmanned underwater vehicles (UUV), and other systems. "When all types of the trials have been completed, the foreign customer`s committee will accept the MCM vessel," the official added.

A Project 10750E MCM vessel (NATO reporting name: Lida-class) has a length of 32.4 m, a width of 3.2 m, a draft of 1.75 m, a crew of 14 servicemen, an operational range of 650 mi, and an endurance of 5 days. It can withstand the Level 5 heaving.

The first Project 10750E MCM vessel for Kazakhstan was laid down on July 31, 2014 and launched in October 2015. Astana is supposed to get the ship before the year-end.
Russia and Kazakhstan signed the contract for one Project 10750E MCM vessel [with an option for one more ship] in July 2013.

© Copyright 2016 TASS. All rights reserved. This material may not be published, broadcast, rewritten or redistributed.