a
Naval Defense Industry News - India, Russia
Russia May Purchase Air-Launched Variant of BrahMos Anti-Ship Cruise Missile for its Su-30SM
Russia's Defense Ministry is interested in purchasing the air-launched version of the BrahMos cruise missile to arm the Sukhoi Su-30SM (NATO reporting name: Flanker-C) fighter jet, a military and diplomatic source told TASS. The BrahMos cruise missile was jointly developed by Russia and India.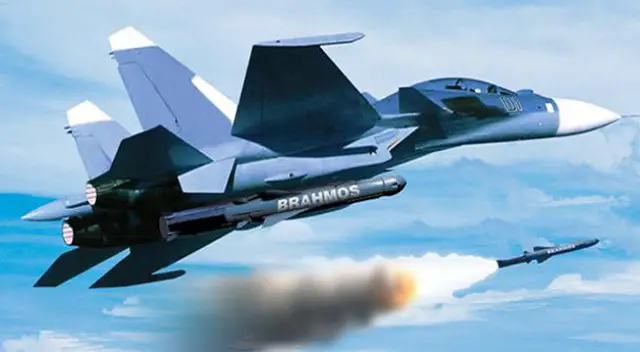 Artist impression: Brahmos missile air launched variant with Su-30MKI
"The advanced aircraft/missile strike system will arrive for India's Air Force in the first place. Then, it can be purchased by the Russian Air Force that has shown great interest in it," the source said at the Army 2016 international military and technical forum.
Talks with Russia may begin in 2017 after Indian Su-30MKI planes armed with the BrahMos cruise missile complete flight tests, the source added.
TASS does not have any official confirmation of this information. An Indian Air Force fighter jet with a demonstrator of the air-launched version of the BrahMos cruise missile performed the first flight in the summer of 2016. The first launches are expected to be performed before the yearend.
India is planning to arm three Su-30MKI regiments with improved BrahMos cruise missiles.
As of today, the Indian Armed Forces operate the ground-based and the naval versions of the missile.
© Copyright 2016 TASS. All rights reserved. This material may not be published, broadcast, rewritten or redistributed.
Comments by Navy Recognition:
The Brahmos missile comes in four variants:
-
Ship launched
-
Submarine launched
-
Land launched
- Air launched
The Indian Air Force is going to field the BrahMos with three air regiments operating Su-30MKI fighters. Making the type accommodate the missile has necessitated modifications to its design, particularly, a redistribution of primary structure loading. To facilitate the integration, the weight of the weapon has been slashed by 500 kg and its length by almost 50 cm.
Based on the Su-30MKM and MKI variant for export, the Su-30SM is a specific variant for the Russian military produced by Irkut Corporation. The new version has been upgraded according to Russian military requirements with a new Bars-R AESA radar and specific radio communications systems, friend-or-foe identification system, ejection seats, weapons, wide-angle HUD and other aircraft systems. In September 2014, the Russian Ministry of Defense ordered a second batch of Su-30SM from Irkut Corporation. The new contract worth about 13 billion rubles ($250 million) is for seven Su-30SM for the Russian Navy. A separate contract for 60 Su-30SM for the Russian Air Force was signed in March 2012 with delivery by 2016.
The BrahMos measures 9 m in length and 70 cm in diameter and carries a 300-kg warhead to a maximum range of 290 km at a velocity of 2.8 Mach (i.e. 2.8 times faster than sonic speed). The missile has entered service with the Indian Army and Navy. The first test of a version designed for submarine launch took place in March 2014.