a
Naval Forces News - Egypt
Russia and Egypt continue talks on Mistral-class LHD Weapons and Systems
Russia and Egypt continue negotiations on supplies of communications equipment and helicopters for Mistral-class LHDs. So far no contract has been inked, Russian presidential aide for military-technical cooperation Vladimir Kozhin told TASS.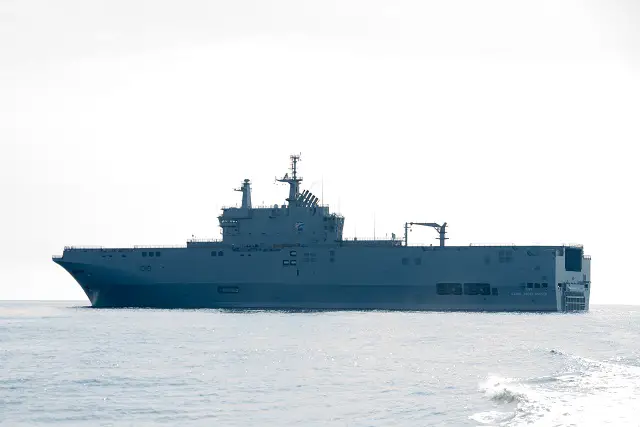 Mistral-class LHD Gamal Abdel Nasser at sea. Picture: DCNS

"There are no contracts so far, talks are ongoing," he said. He added Egypt plans to buy both helicopters and radio-electronic equipment. "They want it in a complex," Kozhin said.

Moscow and Cairo are currently discussing supplies of communication and control systems for Mistral. A contract for Ka-52K helicopters is not ruled out. It is a carrier-based modification of Ka-52 designed specifically for such universal landing warships.

A representative of the United Shipbuilding Corporation told TASS Russian-made communication and control equipment is ready for shipment to Egypt and can be supplied in a short time if a corresponding contract is signed. It includes communication and control systems which ensure warship interaction with coastal infrastructure, command posts and landing ships.

© Copyright 2016 TASS. All rights reserved. This material may not be published, broadcast, rewritten or redistributed.