a
Naval Forces News - Australia
KAKADU 2016: Australia's premier international maritime exercise underway
Australia's largest international maritime exercise, Exercise KAKADU 2016, was officially launched in Darwin yesterday by the Commander Australian Fleet, Rear Admiral Stuart Mayer. Exercise KAKADU will see nations from around the Asia-Pacific region enhance interoperability, share knowledge and develop skills in responding to threats in the maritime and air domains with a multinational force.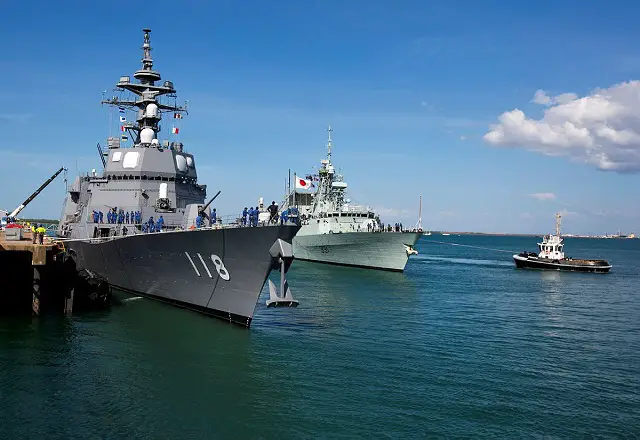 Japanese and Canadian surface combatants. Picture: Australian Department of Defence
Commander Australian Fleet welcomed participating nations and outlined his vision for the Exercise.

"I extend a warm welcome to all nations joining Exercise KAKADU. This exercise is important for forging relationships that build the trust on which we depend in times of crisis and in peace," Rear Admiral Mayer said.

"Australia's regional partners have come to the crucial city of Darwin and our seas to the north to develop expertise and mastery in maritime operations. KAKADU provides an opportunity to collaborate so that our combined forces can immediately respond at times that require the support of all nations."

Ships, submarines and aircraft from Australia, Canada, France, Indonesia, Japan, Malaysia, Pakistan, Papua New Guinea, Singapore and the United States, with observers from Fiji, India, New Zealand, Philippines, Republic of Korea, Thailand, Timor Leste, Tonga and Vietnam have descended on Darwin to practise activities ranging from constabulary and surveillance scenarios to high-end maritime warfare in a combined environment.

Australia's Commander Warfare, Commodore Malcolm Wise, said Exercise KAKADU is a chance to learn new skills and assesses the readiness of a multinational force.

"Exercise KAKADU provides training opportunities across the full spectrum of warfare. We are many nations speaking many languages and KAKADU ensures interoperability to deliver a professional, safe, communicative and integrated force," Commodore Wise said.

Exercise KAKADU runs 12 to 23 September and includes a harbour phase for planning and simulation, before moving into a sea phase where the ships and aircraft will divide into several multi-national task groups to exercise various scenarios, culminating in a task group versus task group "free play".