a
Naval Industry News - USA
Lockheed Martin-Led Team Launches U.S. Navy's Future USS Wichita LCS 13

The Lockheed Martin-led industry team launched the 13th Littoral Combat Ship (LCS) (a
Freedom class Littoral combat ship
) into the Menominee River at the Fincantieri Marinette Marine shipyard on Sept. 17. Ship sponsor, Kate Lehrer, christened LCS 13, the future USS Wichita, in Navy tradition by breaking a champagne bottle across the ship's bow just prior to the launch.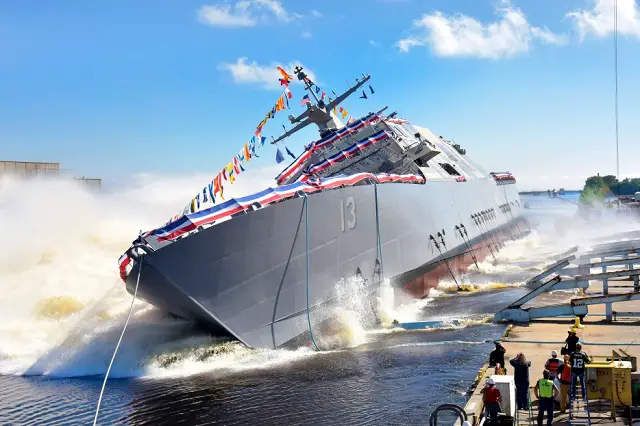 The 13th Littoral Combat Ship, the future USS Wichita, launches sideways into the Menominee River in Marinette, Wisconsin on Sept. 17. Once commissioned, LCS 13 will be the third ship to carry the name of Wichita, Kansas.

The ship's sponsor, Mrs. Mary Winnefeld, christened Sioux City with the traditional smashing of a champagne bottle across the ship's bow just prior to the launch.
"It is an honor and privilege to serve as the sponsor of the future USS Wichita and to be a part of this major milestone in the ship's journey towards joining the great U.S. Navy fleet," Lehrer said. "I look forward and to an ongoing relationship with Wichita's future crews and their families throughout the ship's service."
LCS 13 will undergo additional outfitting and testing at Fincantieri Marinette Marine before the ship's anticipated delivery next year.
"The christening and launch of LCS 13 marks an important step in her journey towards joining the fleet," said Joe North, vice president of Littoral Ships and Systems. "The Freedom-variant LCS plays a critical role in the U.S. Navy's maritime security strategy, and we are committed to getting LCS 13 and her highly capable sister ships into combatant commanders' hands as quickly as possible."
The Lockheed Martin-led industry team is currently in full-rate production of the Freedom-variant, with six ships under construction at Fincantieri Marinette Marine and three more in long-lead material procurement. The ship's design and open architecture allows the Navy to rapidly acquire and deploy a fleet of highly flexible and capable ships at a fraction of the cost of other platforms.
LCS 13 will be the third U.S. Navy ship named USS Wichita. Previous ships to bear the name included a World War II heavy cruiser (CA-45) and a Wichita-class Replenishment Oiler (AOR-1).
Link to Freedom class Littoral Combat Ship technical datasheet
Littoral Combat Ship LCS 13 Side Launch