a
Naval Forces News - USA
Guided-missile destroyer USS Porter (DDG 78) damaged following collision with oil tanker in Hormuz
One of the U.S. Navy's guided-missile destroyers, USS Porter (DDG 78) suffered some damage after colliding with an oil tanker early Sunday in the strategic Strait of Hormuz. No personnel on either vessel were reported injured.

The collision between USS Porter (DDG 78) and the Panamanian-flagged bulk oil tanker M/V Otowasan occurred at approximately 1:00 a.m. local time.

Porter transited under its own power to Jebel Ali, UAE and is now pierside for assessment and repair.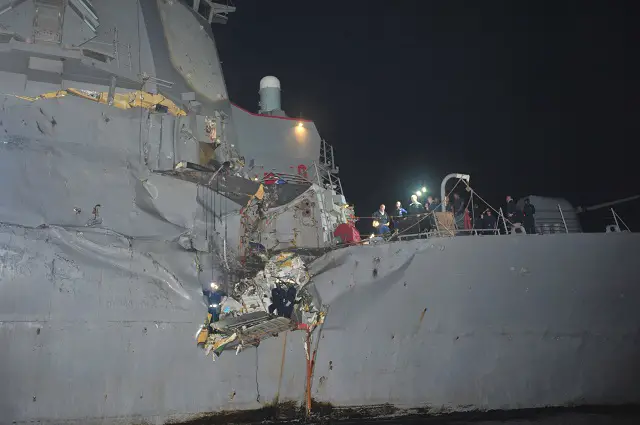 Guided-missile destroyer USS Porter (DDG 78) was damaged in a collision with the Japanese owned bulk oil tanker M/V Otowasan in the Strait of Hormuz, Aug., 12.
(Picture: US Navy)

Tanker Otowasan happears to have rammed the Flight II Burke class destroyer on the starboard side, under the bridge.

According the US Navy, USS Porter is on a scheduled deployment to the U.S. 5th Fleet area of responsibility conducting maritime security operations and theater security cooperation efforts.