a
Naval Defense Industry News - USA
Ingalls Shipbuilding Starts Fabrication on Aegis Destroyer John Finn (DDG 113)
Huntington Ingalls Industries has started fabrication on the U.S. Navy's next Aegis guided missile destroyer, John Finn (DDG 113). The ship will be built at the company's Ingalls Shipbuilding division and will be the 29th Arleigh Burke-class destroyer built at Ingalls.

"This is a significant day for our company and for the U.S. Navy as Ingalls once again builds on the long legacy of surface combatant construction with the start of fabrication on DDG 113," said Bob Merchent, Ingalls' vice president, surface combatants and U.S. Coast Guard programs. "We have delivered 28 of these ships to the U.S. Navy, and our experienced and talented shipbuilders stand more than ready to produce new quality destroyers. Through our build plans and proven construction process, these ships will be built with the utmost efficiency and quality. Our DDG team is ready to get to work and get this production line up and running."

Ingalls Shipbuilding burner specialist Roland Wilson uses an Avenger III Plasma Cutter to cut patterns into steel, marking start of fabrication for the Aegis guided missile destroyer John Finn (DDG 113).
(Picture: Ingalls Shipbuilding)

The start of fabrication milestone signifies that 100 tons of steel have been cut for DDG 113. Ingalls uses state-of-the-art robotic cutting machines to ensure the steel is cut and fabricated to exact Navy specifications. John Finn is expected to be delivered to the Navy in the third quarter of 2016. Ingalls also has a contract to build a 30th destroyer, Ralph Johnson (DDG 114), with start of fabrication scheduled for 2013.

DDG 113 is named to honor John Finn, a Medal of Honor recipient who Adm. Chester Nimitz said displayed "magnificent courage in the face of almost certain death" during the attack on Pearl Harbor in 1941. Finn, a chief aviation ordnance man, used a machine gun at the former Kanoehe Bay Naval Air Station to fire at Japanese aircraft for two hours during the attack. He remained on duty for 18 hours despite receiving as many as 21 wounds. He retired as a lieutenant in 1956 and lived to be 100 before passing in 2010.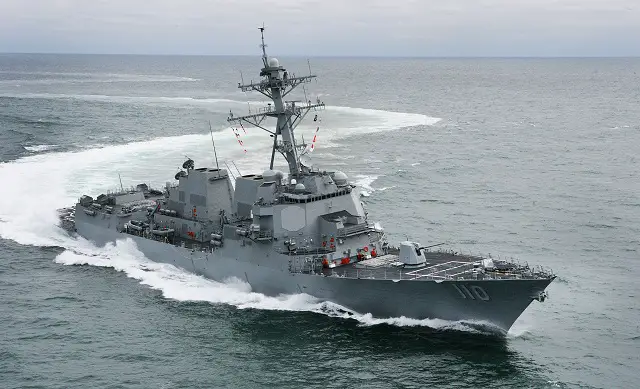 Burke-class Aegis destroyer William P. Lawrence (DDG 110) conducts steering and propulsion systems tests during trials in the Gulf of Mexico.
(Picture: US Navy)

Ingalls has delivered 28 DDG 51 ships to the U.S. Navy. The company's 28th ship, William P. Lawrence (DDG 110), was commissioned on June 4, 2011, in Mobile, Ala. William P. Lawrence was the most complete DDG at time of sea trials in the history of the program at Ingalls.

The highly capable, multi-mission Arleigh Burke-class destroyers can conduct a variety of operations, from peacetime presence and crisis management to sea control and power projection, all in support of the United States' military strategy. DDGs are capable of simultaneously fighting air, surface and subsurface battles. The ship contains myriad offensive and defensive weapons designed to support maritime defense needs well into the 21st century.