a
Naval Forces News - USA
DDG 1000 Zumwalt Class Program Successfully Integrates Deckhouse
The Navy's next generation destroyer, the future
USS Zumwalt (DDG 1000),
completed a major ship milestone with the successful lift and integration of the deckhouse on to the ship's hull Dec. 14.
The 1,000-ton deckhouse was fabricated by Huntington Ingalls Industries in Gulfport, Miss., and delivered to the Navy in October 2012. The deckhouse was then transported to Bath, Maine for integration with the ship's hull, which is under construction at General Dynamics Bath Iron Works.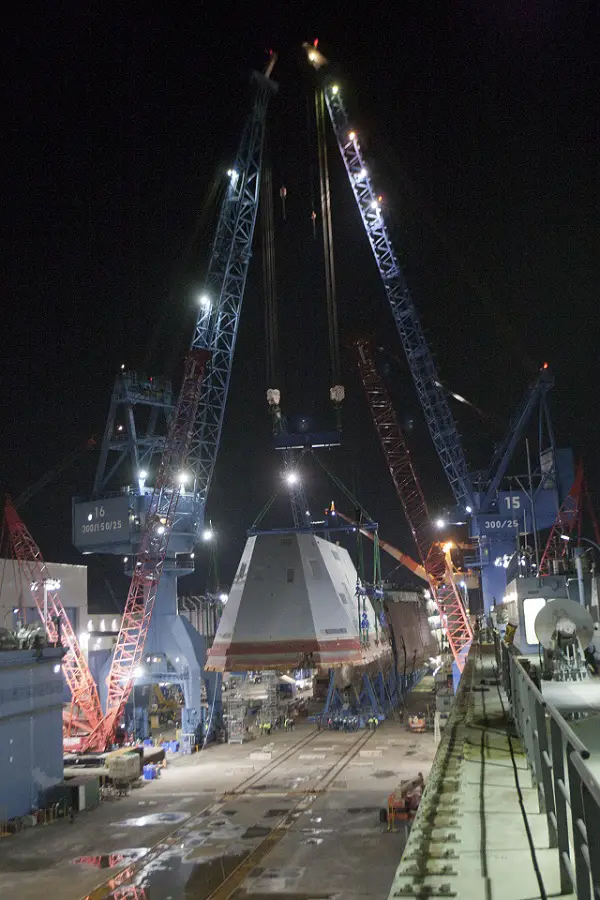 BATH , Maine (Dec. 14, 2012) The 1,000-ton deckhouse of the future destroyer USS Zumwalt (DDG 1000) is craned toward the deck of the ship to be integrated with the ship's hull at General Dynamics Bath Iron Works. The ship launch and christening are planned in 2013. (U.S. Navy photo/Released)
Link to DDG-1000 Zumwalt class Destroyer datasheet, specifications and pictures

"This is a major milestone for the program as this ship construction progresses," said Capt. Jim Downey, DDG 1000 class program manager, Program Executive Office (PEO) Ships. "The successful integration of the deckhouse and hull is a testament to the tremendous design and planning efforts that were instrumental to this program."

With the successful lift and integration of the deckhouse, 9 of 9 ultra units are now on land level at BIW.

"The industry government team meticulously planned the 100' static lift of the deckhouse and translation of the 610' hull into position under the deckhouse," said Downey. "The deckhouse was then lowered into position and the resulting ship moved back into the construction position on the land level facility. Working with our industry partners, we look forward to delivering this highly capable ship to the Fleet."

Construction on DDG 1000 began in February 2009 and is currently 80 percent complete, with ship launch and Christening planned for 2013. The ship is scheduled to deliver in 2014 with an initial operating capability in 2016. Zumwalt will be 610 feet in length, have a beam of 80 feet, displace approximately 15,000 tons, and will have a crew of 130 officers and sailors plus an air detachment. The deckhouse, which is built from steel and composite materials, is 155 feet long and over 60 feet high and will house the ship's bridge, radars, antennas and intake and exhaust systems.

Progress on the DDG 1000 Zumwalt class guided missile destroyers continues to go very well, with all three ships now under construction. Construction on the second ship of the class, Michael Monsoor, began in 2010 with delivery planned in 2016. DDG 1002, the future USS Lyndon B. Johnson, is expected to deliver to the Navy in 2018.

The multi-mission DDG 1000 is tailored for sustained operations in the littorals and land attack, and will provide independent forward presence and deterrence, support special operations forces, and operate as an integral part of joint and combined expeditionary forces.

As one of the Defense Department's largest acquisition organizations, PEO Ships, an affiliated PEO of the Naval Sea Systems Command, is responsible for executing the development and procurement of all major surface combatants, amphibious ships, special mission and support ships, and special warfare craft.
From Team Ships Public Affairs