a
Skjold class coastal corvette, fast attack craft, surface effect catamaran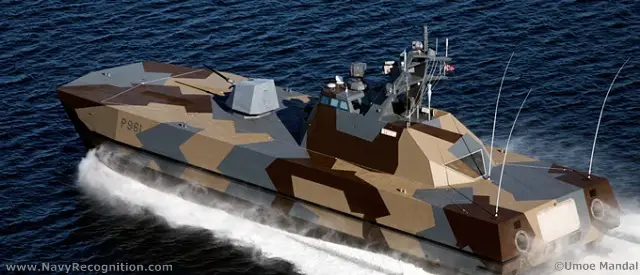 Designed and built by Umoe Mandal, the Skjold class corvette is engineered for littoral combat and surface operations in coastal waters. While light in displacement (274 tons) the Skjold class are armed like a frigate ship, present many stealth features and are capable of high transit speeds. While they should be classed as Patrol Boats, the Royal Norwegian Navy officially label them as coastal corvettes.

Composite materials used in the ship's construction are one of the unique specificities of the Skjold class. Those materials allows the ship to be very lightweight. Skjold will float high in the water not only providing it with excellent sea keaping capabilites but allowing the ship to access very shallow waters denied to other vessels. (thanks to a draught of 0.9m).
The same composite materials are also key to the ship's radar reflective and radar absorbent properties as well as reduced infrared and optical signatures.

The ship is heavily armed for its displacement with eight Kongsberg NSM (Naval strike missile) anti-ship missiles, MBDA Mistral surface to air missiles and an Oto Melara 76mm Super Rapid gun.

The head of class, Skjold was delivered to the Royal Norwegian Navy in April 1999.

The Royal Norwegian Navy intends to commission 6 Skjold class corvettes
Shiplist
| | |
| --- | --- |
| Name | Hull Number |
| Skjold | P960 |
| Storm | P961 |
| Skudd | P962 |
| Steil | P963 |
| Glimt | P964 |
| Gnist | P965 |
Variants:
The U.S. Navy and Coast Guard expressed some interest in the design
Technical Data

Back to top
Design
Surface effect ship. Catamaran (twin) Hull. Fiber glass and carbon composite materials. Modularized sensor and weapon systems. Radar reflective and radar absorbent materials design. Air intakes to gas turbines and
l ift fans covered with radar absorbing grid/mesh.
Weapons
Anti-ship missiles:
8x Naval Strike Missile (NSM)

Anti-air missiles:
Dual Mistral launcher (Simbad)

Guns:
1x 76mm Otobreda Super Rapid (main gun)
Sensors, Electronics and Decoys
Electronic equipment:
DCNS Senit 2000 combat management system
Thales IFF interrogator/transponder
Saab Tech CEROS 200 Fire Control Tracker
Optronics:
Sagem Vigy 20
Sofresud QPD Optical sight
Radars:
Thales MRR /3D NG surveillance radar
Decoys/Counter measures:
EDO RSS CS 3701 ESM
Rheinmetall MASS decoy system
Navigation:
Litton Navigation radar
Communications:
DCNS Interoperable datalink (Link 11/16)
Aeromaritime communication system.
Engines
• 2 x 4000 kW Pratt &Whitney
• 2 x 2000 kW Pratt &Whitney
• 2 Rolls-Royce S-80 Water jets
• 2 x 700 kW 12 cyl. MTU 183 for lift fans
Specifications

Back to top
Type

Coastal Corvette

Crew

15 (accomodations for up to 21)


Operators

Royal Norwegian Navy

Performance

Top Speed: 60+ kts (sea state 0) 45 kts (sea state 3)
Range: 800 nm @ 40 kts
Endurance: -

Displacement

274 tons

Propulsion

Twin gas turbines, twin diesel engines

Aircraft

None

Dimensions

Length: 47 m
Breadth:13.5 m
Maximum Draft: 0.9 m on cushion - 2.2 m off cushion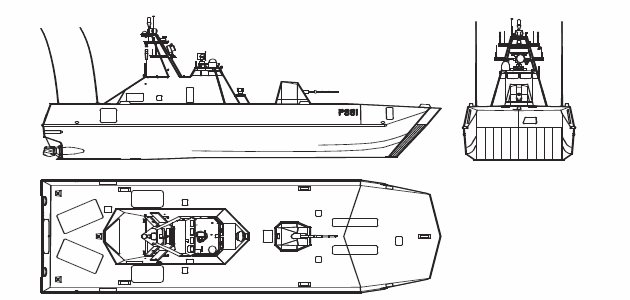 Back to top