a
NAVDEX 2013 Daily News - ADSB at NAVDEX 2013
Abu Dhabi Ship Building (ADSB) to be Main Sponsor of NAVDEX 2013
The Abu Dhabi National Exhibitions Company (ADNEC) today announced Abu Dhabi Ship Building (ADSB) as the main sponsor for the Naval Defence Exhibition (NAVDEX) 2013. The sponsorship will help reinforce a re-vamped maritime security zone designed to address emerging trends in the region's naval defence market.

2013's NAVDEX will see increased areas for live on-water demonstrations, as well as a broader technology offering featuring advanced geospatial mapping systems and network-centric architecture.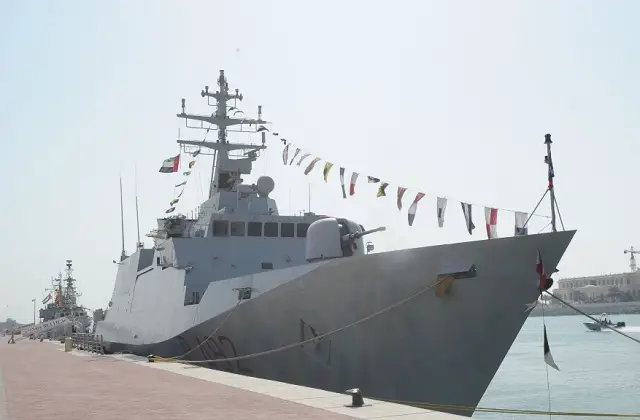 Italian Navy OPV Commandante Bettica (Fulgosi class) visiting NAVDEX
NAVDEX presents a unique opportunity for ADSB to showcase our industry-leading offering to government and private sector decision makers," said Mohammed Al Junaibi, CEO of ADSB. "From our base in Abu Dhabi, ADSB successfully provides products and related services to Navies, Coast Guards and other military and para-military vessel operators throughout the GCC region. NAVDEX 2013 is key in helping us reach out to our existing clients, build relationships with new ones and discuss developments in this fast moving industry."

"We are pleased to have the support of ADSB, a key player driving innovation in the UAE's naval defence industry," said IDEX Director, Saleh Al Marzooqi. "With emerging issues such as piracy and growing offshore natural resources, maritime security is key for GCC nations reinforcing core defence infrastructures. More than a sponsor, we look forward to working in partnership with ADSB to provide an enhanced maritime offering meeting regional demands."

IDEX and NAVDEX will take place at Abu Dhabi's National Exhibition Centre from the 17th – 21st of February, 2013.