a
Naval Forces News - Japan
Eurocopter delivers 10th EC135 Training Helicopter to Japan Maritime Self Defense Force

Eurocopter Japan successfully handed over the 10th EC135 Training Helicopter (TH135, a variant of Eurocopter's EC135 T2) to the Japan Maritime Self Defense Force (MSDF) yesterday. The first TH135 was delivered in December 2009, to begin the replacement of their single-engine training helicopter fleet. The TH135s have been used by MSDF helicopter pilots since November 2011, with instrument flight training as part of the program from April 2012.

The TH135 is the customized version for MSDF, based on Eurocopter's light twin-engine helicopter EC135 T2. The selection was made taking into account the efficiency of its life-cycle cost, thanks to the operation rate and ease of maintenance. The EC135 fleet joins the Japan Ministry of Defense as its second Eurocopter helicopter type; the other being the EC225 model, which is being operated for VIP transport by the Japan Ground Self-Defense Force.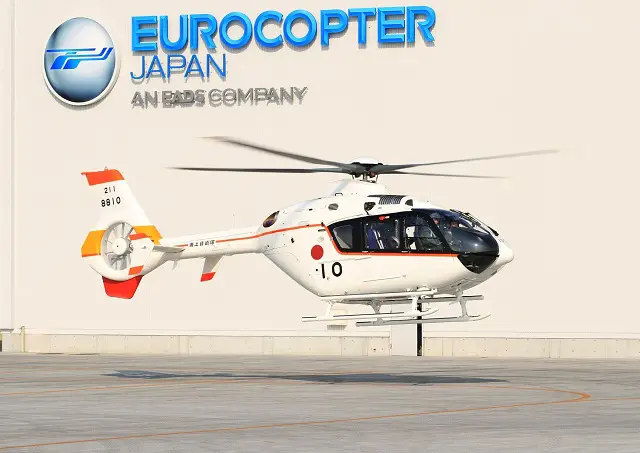 Japan Maritime Self Defense Force (MSDF) TH135, a variant of Eurocopter's EC135 T2
(picture: Eurocopter Japan, Chikako Hirano)

Eurocopter Japan has been delivering the TH135s on time, accomplishing the first instrumentation operation, assembly and customization. A full support system has also been set up to ensure prompt and timely parts delivery, as well as technical support for the maintenance and operation of the MSDF fleet. As a result, Eurocopter Japan was duly awarded by the Air Supply Depot of MSDF in December last year for its efficiency in parts delivery.

"The MSDF contract represents a milestone for Eurocopter in its efforts to gain a foothold in the Japanese defense market," stated Stephane Ginoux, President & CEO of Eurocopter Japan. "It is a great achievement for us to have delivered the 10 TH135 helicopters on time. Our selection and the subsequent recognition by MSDF clearly show the confidence that they have in our products and support services, which serves as a great motivation for us to strive even harder to meet our customers' needs."

Recognizing the benefits of the EC135 as a training helicopter, Japan became one of the first countries in Asia to acquire the TH135 variant for its training. Tailored for advanced training missions, the EC135 is well adapted for air crew of defense forces operating new-generation multi-role or combat helicopters. In Europe, countries such as Germany, Spain and Switzerland are already using the EC135 or its military version, EC635, for pilot training.

The EC135 is a modern light twin-engine helicopter in the 3-ton class, with a seating capacity of seven to eight passengers (five for TH135). It offers good maneuverability, high visibility and low vibration level. After making its debut in mid-1996, more than 1,000 EC135 helicopters have been delivered worldwide for a variety of missions ranging from pilot training and law enforcement to emergency medical services (EMS) and search and rescue. In Japan, there are currently 70 EC135s operating for EMS, police work, electronic news gathering, VIP transport and business aviation.