a
NAVDEX 2013 Daily News - Thales at Navdex 2013
Thales presented several of its naval systems at NAVDEX 2013
With more than 50 years' experience in delivering systems, equipment and services to naval forces, Thales offers unrivalled and proven expertise to an ever growing customer base around the world. Leveraging an in-depth understanding of evolving naval and maritime environments, Thales contributes to the success of naval missions on all seas. Thales presented several of its naval systems at NAVDEX 2013.
Thales ARTEMIS IRST at Navdex 2013
ARTEMIS

ARTEMIS is a new generation of IRST (Infra-Red Search and Track) based on distributed infrared sensors, electronic stabilisation and modular open systems design. Its elegant yet robust system design, using multiple sensor heads, is purposely engineered to minimise footprint, reduce maintenance, simplify logistics and maximise operational availability for all Thales customers. Furthermore, ,it delivers superior performance at a cost no greater than existing scanning IRST technology. ARTEMIS has been ordered for the French and Italian navy FREMM Frigates.
I-Mast scale model on Thales' stand during Navdex 2013
I-Mast

I-MAST 100 is an integrated naval sensor & communications suite packed into an advanced mast structure. It combines multiple state-of-the-art sensor and communications subsystems, auxiliaries required for safety, maintenance, navigation, etc., and infrastructure into a single pre-outfitted and pre-tested package that is installed on top of a ship's superstructure at the final stage of the shipbuilding process. I-MAST 100 combines the majority of the sensor and communications functionalities of the ship into one integrated mast structure. With huge advantages in terms of improved operational performance with lower life cycle costs, the I-MAST is already on board the Royal Netherlands Navy's HMS Holland.
Thales GATEKEEPER EO system outside the Navdex hall. Thales was giving live demonstrations of the GATEKEEPER capabilities throughout the event.
GATEKEEPER

For close range detection and identification of asymmetric threats, Thales's GATEKEEPER staring electro-optic ship security system provides round-the-clock panoramic surveillance, identification and threat alert in the surface domain. The system is ideally suited as a clip-on for existing platforms and excels in harbours and confined waterways where radar use is restricted and radar performance is limited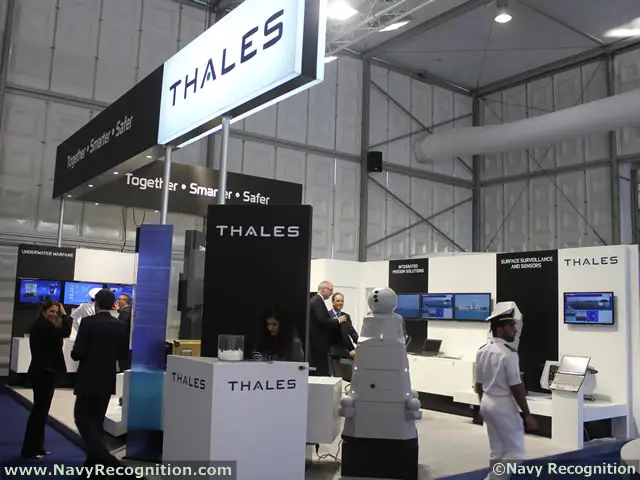 Thales Stand at Navdex 2013