a
Naval Forces News - USA
USNS Montford Point mobile landing platform ship (T-MLP 1) Christened in San Diego
The US Navy's first mobile landing platform ship, USNS Montford Point (T-MLP 1), was christened at the General Dynamics NASSCO shipyard in San Diego, March 2. Owned and operated by Military Sealift Command, Montford Point was christened by its sponsor, Alexis "Jackie" Bolden, the wife of current NASA Administrator Charles Bolden.

Gen. James F. Amos, Commandant of the Marine Corps, delivered the ceremony's principal address and Rear Adm. Mark H. Buzby, commander of MSC, also spoke on behalf of the ship and crew.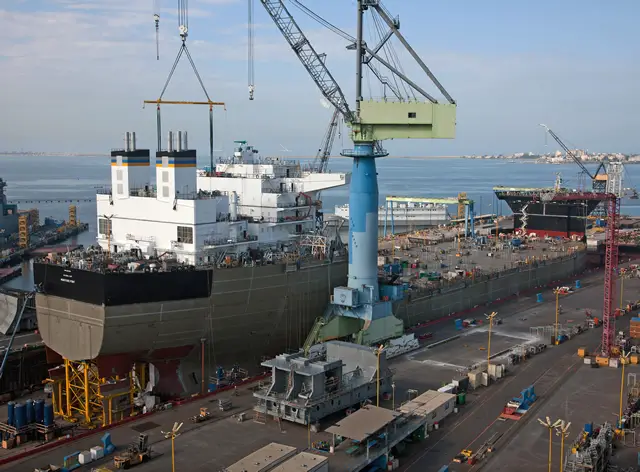 USNS Montford Point (T-MLP 1) during construction
(Photo: General Dynamics NASSCO)

"This ship, with its unique capabilities, will become the centerpiece of sea-basing, allowing the U.S. Navy to raise forward-operations to a new level," said Buzby.

"Wherever the call, whatever the need, USNS Montford Point will be part of the Navy's global force for good," he said.

The first of three MLPs being built for MSC by NASSCO, Montford Point will join MSC's Maritime Prepositioning Force as a seagoing pier in the event that accessibility to onshore bases is denied.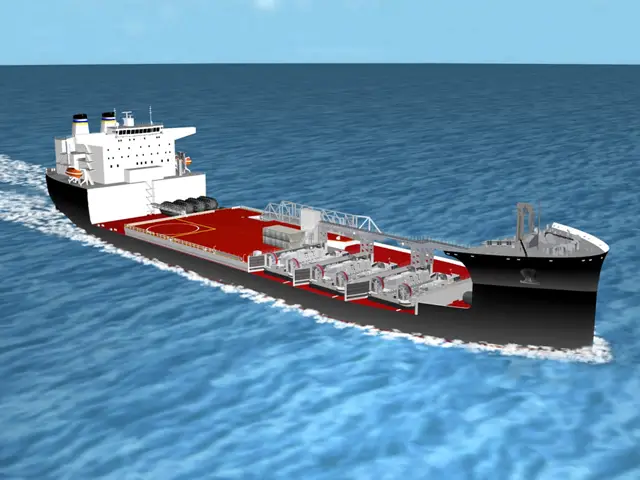 An artist concept of a mobile landing platform (MLP) ship
(Image: US Navy)

Montford Point is named in honor of the 20,000 African-American Marine Corps recruits who trained at Montford Point Camp, N.C., from 1942 to 1949. It's the corner stone of the Navy's sea-base concept, serving as a transfer point for a Marine Corps amphibious landing force between large ships and ship-to-shore landing craft. The ship also provides the ability to transfer vehicles and equipment at sea while interfacing with surface connectors to deliver the vehicles and equipment ashore, improving the Navy's ability to deliver equipment and cargo from offshore to an amphibious objective.

Its flexibility is critical for humanitarian response to natural disasters and for support to warfighters ashore. The size allows for 25,000 square feet of vehicle and equipment stowage space and 380,000 gallons of JP-5 fuel storage. A crew of 34 civilian mariners employed by MSC will operate the ship once delivered to the fleet.

"I salute the ship's first master, Capt. Kurt Kleinschmidt, his chief engineer, Bill Maus, and the rest of the U.S. Merchant Marine crew," said Buzby.

"Their determination will stand this ship and its mission in good stead as they sail anywhere on the globe that the mission sends them," he said.

MSC operates approximately 110 noncombatant, civilian-crewed ships that replenish U.S. Navy ships, conduct specialized missions, strategically preposition combat cargo at sea around the world and move military cargo and supplies used by deployed U.S. forces and coalition partners.

By Sarah Burford, Military Sealift Command Pacific Public Affairs