a
Naval Forces News - USA, South Korea, Japan
JMSDF ROK Navy US Navy deployed AEGIS Destroyers to possibly intercept North Korean Missiles
The Navies of the United States, Japan and South Korea deployed a total of seven AEGIS equipped Guided Missile Destroyers (DDG) in the Sea of Japan and Korean Peninsula to monitor, and possibly destroy, any ballistic missiles launched by North Korea.
Each of these vessels are fitted with Lockheed Martin AEGIS system. Aegis Weapon System is the combination of a radar and weapon system capable of simultaneous warfare against air, ballistic missile, surface. The Aegis Weapon System is a seamlessly integrated radar and missile system capable of simultaneous operation defending against advanced air, surface and subsurface threats. A key component of the Aegis Weapon System is the SPY-1 multi-function phased array radar. It is one of the world's most advanced and versatile maritime radar.
The vessels deployment followed several reports stating North Korea had moved what appeared to be a missile that might be capable of reaching Guam to its east coast.
The BM-25 Musudan (No-Dong-B) missile
, thought to be untested, had a theoretical range of 1,875 miles (3,000km) which would put all of South Korea and Japan within its reach, said Yonhap, quoting unnamed South Korean and US intelligence sources.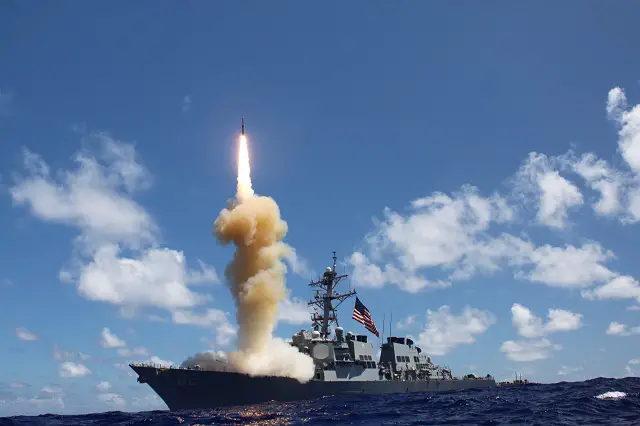 PACIFIC OCEAN (Oct. 25, 2012) The guided-missile destroyer USS Fitzgerald (DDG 62) launches a Standard Missile-3 (SM-3) as apart of a joint ballistic missile defense exercise.
(U.S. Navy photo/Released)
US Navy Destroyers

Vessels deployed by the United States include USS Fitzgerald (DDG-62), USS John S. McCain (DDG-56) and another undisclosed destroyer. One of the destroyers is currently near the waters of Guam to protect the US base there, while another is deployed off the eastern coast of the Shimokita Peninsula in northern Japan.

USS Fitzgerald and USS John S. McCain are both Arleigh Burke-class (DDG-51) Flight I destroyers. They are capable to launch Raytheon's SM-3 missiles.

The SM-3 is a defensive weapon designed to destroy short- to intermediate-range ballistic missiles. The SM-3 destroys incoming ballistic missile threats by colliding with them, a concept sometimes described as "hitting a bullet with a bullet." The impact is the equivalent of a 10-ton truck traveling at 600 mph.
ROK Navy Sejong the Great Destroyer
(Picture: US Navy)
Republic of Korea Navy Destroyers
The two destroyers deployed by South Korea are ROKS Yulgok Yi I (992) and ROKS Seoae Yu Seong-ryong (993), the second and third ships of the
KDX-III Sejong the Great class Destroyer.
They are believed to be currently deployed to the west and east of the Korean Peninsula.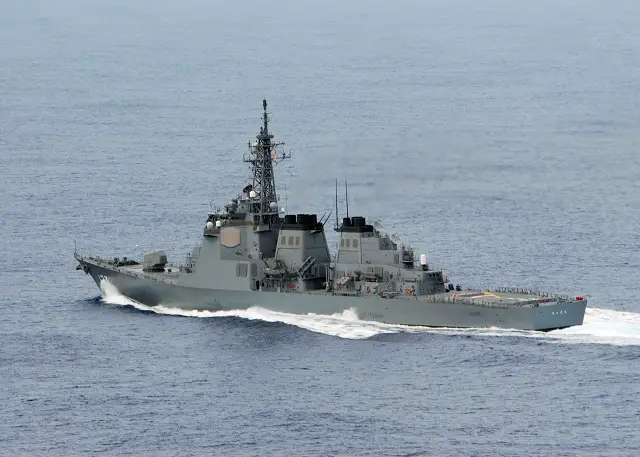 Japan Maritime Self-Defense Force JDS Kongo (DDG 173)
(Picture: US Navy)
Japanese Maritime Self Defense Force Destroyers

Japan deployed the the Kongo (DDG-173), first ship of the class, and the Kirishima (DDG-174) destroyers. Both vessels are deployed in the Sea of Japan. This marks the first time the Japanese Defense Ministry has issued such an order before a North Korean missile announcement. Japan's chief cabinet secretary, Yoshihide Suga, told reporters on Monday, that Tokyo, along with Washington and Seoul, is staying alert to secure the safety of its citizens in any scenario.

Like the US Navy destroyers in the area, the Japanese Destoyers are fitted with the SM-3 missile.