a
Defense Industry News - USA
Advanced Precision Kill Weapon System Demonstrates Anti-Ship Capability in Maritime Testing
The combat-proven Advanced Precision Kill Weapon System (APKWS™) laser-guided rocket achieved another first, launching from a helicopter over water and disabling multiple maritime targets. The successful test expands the technology's reach from land to sea – making the APKWS rocket system an even more valuable tool for our armed forces.

"This demonstration proves the APKWS rocket's ability to engage maritime targets including fast-inshore attack craft," said David Harrold, director of precision guidance solutions at BAE Systems. "The APKWS product gives the U.S. Navy a powerful, mission-ready capability in a very mature and cost effective weapon that will enable them to defend against today's non-traditional threats."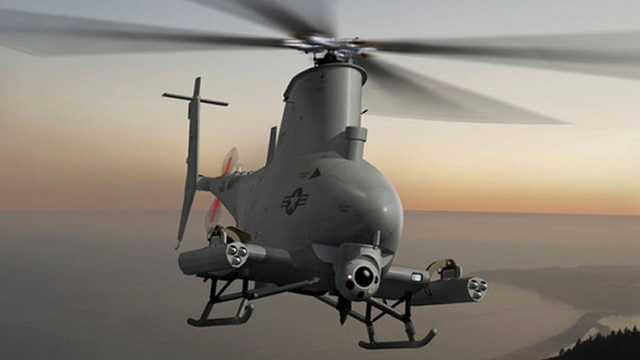 Advanced Precision Kill Weapon System (APKWS®) fitted on MQ-8B Fire Scout UAV
(Picture: BAE Systems)

The APKWS product is a guided 2.75-inch rocket system that uses semi-active laser guidance technology to strike soft and lightly armored targets in built-up and confined areas. The APKWS has been shot more than 100 times in combat operations in Afghanistan and has quickly become the weapon of choice since its March 2012 deployment, enabling low collateral damage precision engagements against moving and stationary targets in urban terrain operations.

In its first over-water testing, the APKWS rocket was fired 10 times and scored 100 percent accuracy, landing direct hits on single and multiple maritime targets using inert warheads, Mk152 high explosive warheads, and MK149 flechette warheads. The guided rockets were fired from a U.S. Marine Corps UH-1Y at stationary and moving small boat targets at ranges of 2 to 4 kilometers. The targets were designated by a U.S. Navy MH-60S helicopter in a buddy lase scenario.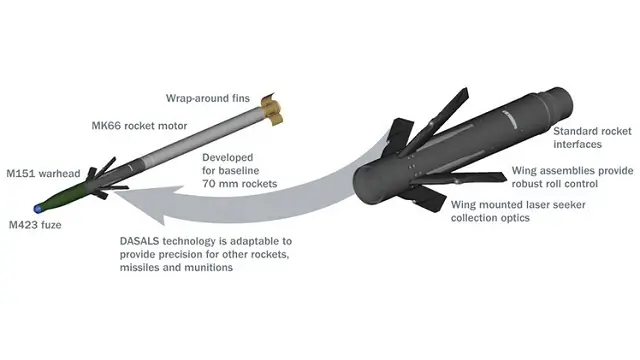 (Picture: BAE Systems)

The Navy intends to integrate the laser-guided rocket system onto the Sikorsky MH-60R/S naval helicopters and other Navy and Marine Corps aircraft. A Joint Capability Technology Demonstration is underway to prove the military utility of the APKWS weapon on the AV-8, A-10 and potential future platforms such as the F-16, and F/A-18.

To date, the APKWS product is fully qualified on the U.S. Marine Corps AH-1W and UH-1Y. BAE Systems has successfully launched APKWS from a variety of fixed- and rotary-wing platforms, including, the OH-58D(I) Kiowa Warrior, the Bell Helicopter B407-GT, and the Hawker Beechcraft AT-6C. The weapon's versatility and proven success in theater have driven the company to look to expand its use on additional U.S. and international platforms.

BAE Systems has seen significant interest from a number of international customers for the APKWS rocket, which is one-third of the cost and one-third of the weight of other laser-guided munitions in use by U.S. forces. The system is available through the foreign military sales process.